Welcome to BirdForum.
BirdForum is the net's largest birding community, dedicated to wild birds and birding, and is absolutely FREE! You are most welcome to
register
for an account, which allows you to take part in lively discussions in the forum, post your pictures in the gallery and more.
Egypt

From Opus

We have just returned (3.2.2010) from a week at Jolie Ville Luxor. As many will know this is a well visited birding site. We were probably the last people to be able to walk around the southern section of the island with the track in it's undeveloped state. As of 27.1.2010 the bulldozers and earth movers have moved in and have begun to flatten the area. (I have photographs of this). The development ( over the next 2 - 3 years) will double the amount of residential units and will lead to the landscaping of the entire island and the removal of much of the remaining natural environment. Sad times for birders intending to holiday there but you can always hire Abdou the resident bird expert to take you to the best localities.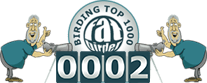 Search the net with ask.com
Page generated in 0.22812009 seconds with 10 queries