Welcome to BirdForum.
BirdForum is the net's largest birding community, dedicated to wild birds and birding, and is absolutely FREE! You are most welcome to
register
for an account, which allows you to take part in lively discussions in the forum, post your pictures in the gallery and more.
Views

Category:Diglossopis

From Opus

Genus: Diglossopis

[edit]

Description

[edit]

Taxonomy

Diglossopis is a genus in the family Thraupidae, not accepted by most lists. If accepted the following species which are now placed in Diglossa would be placed here:

Articles in category "Diglossopis"

There are 0 articles in this category.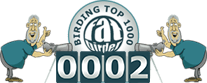 Search the net with ask.com
Page generated in 0.21708202 seconds with 6 queries