Welcome to BirdForum.
BirdForum is the net's largest birding community, dedicated to wild birds and birding, and is absolutely FREE! You are most welcome to
register
for an account, which allows you to take part in lively discussions in the forum, post your pictures in the gallery and more.
Views

Flameback

From Opus

This is a disambiguation page. A number of articles are associated with the title Flameback.


NOTE:

If an

internal link

referred you to this page, you may wish to change the link to point directly to the intended article.


Flamebacks are Woodpeckers belonging to one of two genera: Dinopium or Chrysocolaptes. They share the feature that the back color is in the range of golden to orange to red.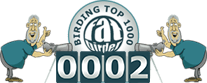 Search the net with ask.com
Page generated in 0.21894503 seconds with 6 queries