Welcome to BirdForum.
BirdForum is the net's largest birding community, dedicated to wild birds and birding, and is absolutely FREE! You are most welcome to
register
for an account, which allows you to take part in lively discussions in the forum, post your pictures in the gallery and more.
Views

Help:Guidelines

From Opus

In order to keep the guides a neutral and objective source of information, please follow these guidelines when making changes to pages regarding equipment.

Avoid using comparatives or superlatives in articles. For example 'this jacket is the best on the market' or 'this stove is much better than all the others.
Avoid using personal opinion in articles, and stick to fact. You may however cite results of public polls or awards for example 'This book was rated the best in the 'Fictional Book Awards 2006'.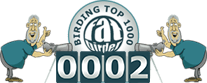 Search the net with ask.com
Page generated in 0.23270607 seconds with 6 queries