Welcome to BirdForum.
BirdForum is the net's largest birding community, dedicated to wild birds and birding, and is absolutely FREE! You are most welcome to
register
for an account, which allows you to take part in lively discussions in the forum, post your pictures in the gallery and more.
Views

Help:What was wrong with the old bird database?

From Opus

Nothing was particularly wrong with the old database, but it did have some pretty clear limitations which we felt were holding it back from what it could potentially become - a fantastic resource for birders everywhere.

Only a single photo could be uploaded per species (now there's the possibility of using more than one, e.g. if males and females differ)
There was no real possibility if linking between species (e.g. if the text about species X mentions that it often eats species Y, you can now add a link. So if you're not quite certain about species Y, a single click will take you the page for it)
Only a single name could be used (e.g. "Dunnock" would give no results in the old database, as this species was listed under Hedge Accentor). Now a forward page will take you to the correct page, even if searching for Dunnock).
The 'description' and 'identification' fields were far too limiting, and were confusing. We often had huge amounts of information listed under description, except for a description, and the identification field was often used to provide more information about the photo.
No history was kept, and it wasn't possible to find out what pages were being edited and when, or to discuss what was happening with them.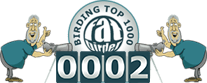 Search the net with ask.com
Page generated in 0.23957801 seconds with 6 queries