Welcome to BirdForum.
BirdForum is the net's largest birding community, dedicated to wild birds and birding, and is absolutely FREE! You are most welcome to
register
for an account, which allows you to take part in lively discussions in the forum, post your pictures in the gallery and more.
» Number of reviews : 2 - viewing 10 Per Page
Last Review Posted

by sdg_77 - posted: Fri September 15, 2006 7:33am

[ Post a Review ]


Views: 14258


We\'ve had one of these in our garden for several months now and it has proved effective at keeping the cats away from the bird table and feeders. Some cats don\'t react when they trigger the unit - though they don\'t remain in our garden. Some carefull siting is needed to avoid too many \'dead-spots\'. Unless your garden is a bowling green there will be some - but an occasional move of a couple of metres will obviously move these around and persuade the local cats to go elswhere. Bear in mind you will need to have somewhere to plug in the mains unit and a route for the cable.

Rating: 8
Product Details: "Catwatch" by moondog - posted: Wed August 23, 2006 - Rating:
7.33
Last Review Posted

by sdg_77 - posted: Fri June 30, 2006 9:37am

[ Post a Review ]


Views: 18304


Bought the 8.5s at a local birdwatching fair (Redditch) at the beginning of June. Having tried them in a variety of light conditions (bright sunshine, cloudy, late evening, sunset - just not much rain yet) they have more than matched what we hoped for. Bright clear images, good depth of field, no chromatic aberration that I can see and excellent build quality. As I got an unexpected bonus from work we bought a pair of the 10x42s in July as most of our birding is done together and it had become obvious they were streets ahead of the other binoculars we had in the house. They were bought as an upgrade from some Pentax 8x40 PCF porro prisms which were themselves bought as a first pair of bins specifically for birding. Having decided we are keen enough on birding to justify spending some serious cash on binoculars we looked at several makes at the show. Opticron, Leica & RSPB were all good but these were the ones which both of us liked. Most of what follows applies equally to both the 8.5s and the 10s. The only real difference I can find is the 10s require a little more focussing and have slightly less depth of field. Although I have put weight as a con, the image quality was noticeably better than the lighter and cheaper non-aspheric Minoxs - which is what persuaded us to go for these. I expected the Leicas to be obviously better - but neither of us could see a twice the price difference, and the Minoxs were more comfortable to handle. We both thought the Opticron DBA Oasis was similar quality but neither of us liked the ridges on the case. I have large hands, long fingers - my wife the opposite but we both find these bins very comfortable to use & easy to focus. The dioptre is easy to adjust and stays put as do the eyecups. The rainguard is good quality and fits well. I dont normally wear my glasses while birding - just for reading the field guide or making notes - but with the eyecups down I get an equally good view, I suppose this might be useful on the days when I am searching the field guide trying to identify something. If I were being really picky I might change the strap for a wider one - but that really is trying to find some minor criticism - the included strap is good quality neoprene and the logo is suitably discrete. The caps for the objective are easy to fit and remove, and the soft case fits well. We paid £350 for the 8.5s - normal price is anything up to £450 and I would have been happy to have paid that much. Minox have a new HG model out so I assume they were offering these at 'show prices.' The 10s were £470. Both pairs came from Focus Optics near Coventry. You may well find them cheaper on some internet sites but the customer service at Focus and the chance to try out optics in field conditions is - just my opinion - worth paying a little extra for. (Sept 06) After much use these bins continue to impress - and having now used them on bat watching trips, in rain and poor visibility I really can\'t fault them.

Rating: 10
Product Details: "BD 8.5 & 10 x 42 BR Aspheric" by sdg_77 - posted: Fri June 30, 2006 - Rating:
10.00
Powered by: ReviewPost PHP vB3 Enhanced
Copyright 2006 All Enthusiast, Inc.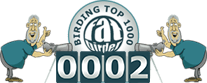 Search the net with ask.com