Welcome to BirdForum.
BirdForum is the net's largest birding community, dedicated to wild birds and birding, and is absolutely FREE! You are most welcome to
register
for an account, which allows you to take part in lively discussions in the forum, post your pictures in the gallery and more.
» Number of reviews : 1 - viewing 10 Per Page
Last Review Posted

by H K - posted: Tue April 5, 2011 9:22am

[ Post a Review ]
| | |
| --- | --- |
| Views: 43896 | This lens is happy on a 681B monopod over my shoulder on 10 mile hikes. Much easier to pack / Haul than the longer lenses . There is a bit of a learning curve on the lens operation for the sweet spot . Once you can fine tune focus to help or over ride field conditions . Life is good . Hans K. |
Product Details: "300mm f/2.8G AF-S VR" by Andy Bright - posted: Fri May 26, 2006 - Rating:
9.67
Powered by: ReviewPost PHP vB3 Enhanced
Copyright 2006 All Enthusiast, Inc.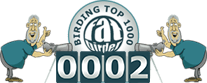 Search the net with ask.com