Welcome to BirdForum.
BirdForum is the net's largest birding community, dedicated to wild birds and birding, and is absolutely FREE! You are most welcome to
register
for an account, which allows you to take part in lively discussions in the forum, post your pictures in the gallery and more.
» Number of reviews : 2 - viewing 10 Per Page
Last Review Posted

by laccaria - posted: Mon November 5, 2012 6:19pm

[ Post a Review ]
| | |
| --- | --- |
| Views: 51122 | Recently, I was able to compare the STS80 HD with 20-60x eyepiece to the Leica Apo Televid 77 with 20-60x eyepiece, Leica Apo Televid 82 with 25-50x ASPH eyepiece, Nikon EDG 85 A with 20-60x eyepiece and the Nikon ED82 with 25-56x eyepiece. The clear winner in optical performance is the STS80 HD, followed by the EDG 85. Both were sharp up to 60x!! To my eyes, the field of view was a bit smaler in the Swaro, but the view was slightly better. The worst in the test was the older Televid, becaue of some optical disorders after 40x. The new Apo Televid 82 dropped dramatically in image quality in twilight, but at daylight the wide and extremely flat field of view was impressive. I think for the Nikon ED82 the 25-56x isn't the best choice, because of the smale field of view. The image quality was really nice. My favorite is the EDG 85 because of the FSA-L2 zoom adapter for my CANON camera. If anyone is intersted in more information, no problem, questions are welcome! Regards Sebastian |
Product Details: "ATS/STS 80HD" by Andy Bright - posted: Sun October 26, 2003 - Rating:
9.63
Last Review Posted

by laccaria - posted: Sun March 11, 2012 7:25am

[ Post a Review ]


Views: 19095


I have bought this scope 2 months ago and before i have had an Leica Apo Televid 77 with zoom eyepiece. This scope was really massive! Most of the time i use my bike to reach the best places for birding. For this the Meopta is a great scope with a nice big front lense diameter. In comparison to the Leica it is very leight, ok the image quality with 60x is not that crisp and sharp, but for me this is no problem. And the price of the scope is nearly half of the price of a comparable Leica or Zeiss. Much scope for the money! :t:

Rating: 9
Product Details: "HA 75" by Dirk Hiemstra - posted: Sun September 19, 2004 - Rating:
9.50
Powered by: ReviewPost PHP vB3 Enhanced
Copyright 2006 All Enthusiast, Inc.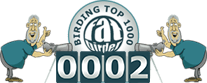 Search the net with ask.com