Welcome to BirdForum.
BirdForum is the net's largest birding community, dedicated to wild birds and birding, and is absolutely FREE! You are most welcome to
register
for an account, which allows you to take part in lively discussions in the forum, post your pictures in the gallery and more.
» Number of reviews : 1 - viewing 10 Per Page
Last Review Posted

by crosby birder - posted: Sun March 25, 2012 7:48am

[ Post a Review ]


Views: 8590


Got the Lensmaster RH-1 a few weeks ago, it really is as good as the previous review says it is, with a super smooth action making it very easy to track birds in flight. It is also exceptionally easy to set up, after a bit of practice I can now mount the lens and camera in about 10-15 seconds. Rob offers a really quick service and is a pleasure to deal with... why spend more?

Rating: 9
Product Details: "GIMBAL RH-1" by Colin Smale - posted: Wed October 12, 2011 - Rating:
9.00
Powered by: ReviewPost PHP vB3 Enhanced
Copyright 2006 All Enthusiast, Inc.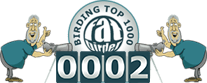 Search the net with ask.com