Welcome to BirdForum.
BirdForum is the net's largest birding community, dedicated to wild birds and birding, and is absolutely FREE! You are most welcome to
register
for an account, which allows you to take part in lively discussions in the forum, post your pictures in the gallery and more.
» Number of reviews : 5 - viewing 10 Per Page
Last Review Posted

by IanF - posted: Wed August 1, 2012 12:03pm

[ Post a Review ]


Views: 9943


The EL 32 Swarovision are a delight to use. Iíve been using a pair for around eight weeks now. Theyíre small lightweight, well balanced and well designed with incredible optics. They have narrow barrels with well placed thumb shaped indents below. They comfortably fit my large hands thanks to the wrap around grip design. Thereís a large grooved central focus wheel. Focus is light but positive and very smooth enabling fingertip control even whilst wearing gloves. To adjust the dioptre, focus with the left eye then pull up the focus knob, focus with the right eye and push down the knob to lock in place. The ergonomically balanced magnesium housing with non-slip rubber armouring makes them ideal for long periods of observation and extremely comfortable to hold Ė even using only one hand. Screw down eye cups with click stops give a positive feel to the setting. Being so light to carry I keep checking Iíve got them around my neck still! Optically I cannot fault them. Thereís no hint of Ďrolling ballí that I can see. Very natural colours with no discernable CA or flare in the pair that I have. The optics are clear and bright with edge to edge sharpness whatever the light levels. Having been used to using EL 8.5 x42ís for several years I thought the 8x32ís maybe be left wanting but reality theyíre pretty comparable for quality of view, if not a little better though that may be due to the newer coatings. I find the close focus of around 6í very useful for viewing insects such as butterflies and dragonflies. Minor niggles Ė I much prefer soft rubber eyecup covers to the solid plastic one supplied which whilst well made are a little heavy and clunky for such a lightweight pair of binoculars. The case is well made and well padded is perhaps overkill for such a compact pair of binoculars. When off the neck the strap is perhaps a little heavy for such a small pair of binoculars but thatís not noticeable when theyíre around your neck. Overall though Iíd have to say that I really like the EL 32ís and they tend to be my first choice to take when I go out birding.

Rating: 10
Product Details: "8x32 EL Swarovision" by IanF - posted: Wed August 1, 2012 - Rating:
10.00
Last Review Posted

by IanF - posted: Sun July 24, 2011 11:05am

[ Post a Review ]


Views: 17462


Much as I like my Manfrotto Carbon One 443 and 128 RC head I have to say that I really like the new Gitzo Series 2 GK2520FT Safari Traveller Kit. It is a real pleasure to use, not to mention the design and green colour mean it looks good too! From the outset the high quality expected of Gtizo products is obvious. It comes in a rather nice looking box with the tripod in a cloth bag and even has a plastic pouch with tool kit and instructions for making adjustments and aid long term care. The compactness is obvious due to the unique reversible leg design for travelling and storage. The sleek looking design is lightweight yet retains good stability with little in the way of vibration. Itís so lightweight Ė 1.96 kg for both head and legs - I barely felt the weight on my shoulder strap. The special G-Lock - Ocean Lock legs are easy to use requiring little movement to lock the legs in place and release them. I never had cause to try it in water so I canít comment on the water seal feature but the leg sections certainly extended and retracted very smoothly. The centre column has a hook on itís bottom for hanging a weight for increased stability though I never had the need to use it. Also the column is reversible should you so desire. The standard feet are removable using the included tool kit to reveal spiked feet as an alternative. Being a kit it comes with the GH 1720 FQR tripod head. Both pan and tilt are operated from one control. Previously Iíd only used heads with separate controls for pan and tilt but it didnít take long to get used to the new system. Tension can be infinitely adjusted with very little pressure and operation was silky smooth. It was certainly smooth enough to pan when taking video with my DSLR of waders wandering around. The head plate position can be adjusted forward or backward to aid balance if need be. A separate button needs to be pressed to release the plate from the head in addition to releasing a tension lever, a good feature to protect against accidents. The kit recommended for lenses up to lenses up to 300mm though can take heavier weights. I was mostly using it with a Canon 7D and Canon 400mm f5,6 lens, often with teleconverters as well. It even handled my Swarovski ATS80 scope comfortably. The max. working height is quoted as being 129.5 cm with centre column down and 164 cm with column extended. Whilst not the tallest tripod available, at 188cm I had no difficulty in using it for photography or with my angled scope. The price point is fairly high but as they say Ďyou get what you pay forí and quality certainly isnít a concern. Itís well designed and constructed with the bird photographer in mind and Iím sure will last a lifetime.

Rating: 10
Product Details: "Safari Traveller/Birdwatchers Kit - Series 2 GK2520FT" by IanF - posted: Sun July 24, 2011 - Rating:
10.00
Last Review Posted

by IanF - posted: Fri March 12, 2004 2:23pm

[ Post a Review ]


Views: 54275


An excellent scope for all round use with high quality fluorite glass. I had the Kowa 823 version and used the 32xW and 20-60x eyepieces. Both were of exceptional quality and the zoom was so good that I seldom bothered with the 32x though it was exceptional itself. This is a top quality scope both for the normal viewing for which it is designed and for digiscoping. It\'s very well designed indeed. The fine focus knob of this scope gives very good control of the focus with only the lightest touch, far better than the helical focus of some other manufacturers. Really my only gripe would be the narrowness of the eyepieces for spectacle wearers. Other manufacturers have managed to produce wider eyepieces and it\'s about time that Kowa did too. Even then it is an exceptional peice of equipment to use.

Rating: 10
Product Details: "TSN823M & TSN 824M" by Andy Bright - posted: Sun October 26, 2003 - Rating:
9.67
Last Review Posted

by IanF - posted: Fri March 12, 2004 2:09pm

[ Post a Review ]


Views: 56737


I use this scope with the 20-60x eyepiece. For normal scope use then I don\'t think it can be faulted. The eyepieces give a wide field of view and it performs very well even in low light conditions. Personally though I like to use my scope for digiscoping as well and for that I think it is less well suited than other high-end scopes. It\'s main disadvantage is the helical focus ring. In order to focus the scope you basically have to grab the scope body causing vibration in order to achieve a fine focus. Many other models on the market, in particular the Kowa 823, Zeiss Diascope and Leica have a fine focus adjustment knob which allows delicate one finger adjustment to fine focus the scope. Whilst of the highest quality optically it is by no means the be all and end all of spotting scopes.

Rating: 9
Product Details: "ATS/STS 80HD" by Andy Bright - posted: Sun October 26, 2003 - Rating:
9.63
Powered by: ReviewPost PHP vB3 Enhanced
Copyright 2006 All Enthusiast, Inc.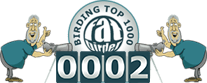 Search the net with ask.com