Welcome to BirdForum.
BirdForum is the net's largest birding community, dedicated to wild birds and birding, and is absolutely FREE! You are most welcome to
register
for an account, which allows you to take part in lively discussions in the forum, post your pictures in the gallery and more.
Products
Views
Rating
Date
Reviews
Bushnell Legend 8x42mm
posted by wanderer1942

New body. Same wicked power plant. Still the rugged standard for all-weather brightness and clarity, Legend™ roof-prism binoculars are now slimmer and 20% lighter thanks to a ...

11551

7.50

Thu March 4, 2010 12:32pm

2 reviews
Leupold Yosemite 8x30mm
posted by wanderer1942

Smaller interpupillary distance adjustments mean anyone from children to adults can enjoy the serious optical performance of the Yosemite® Series binoculars. Mfg# 62515 Bla ...

9749

8.00

Thu March 4, 2010 12:03pm

1 reviews
Powered by: ReviewPost PHP vB3 Enhanced
Copyright 2006 All Enthusiast, Inc.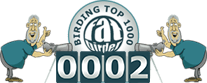 Search the net with ask.com