Welcome to BirdForum.
BirdForum is the net's largest birding community, dedicated to wild birds and birding, and is absolutely FREE! You are most welcome to
register
for an account, which allows you to take part in lively discussions in the forum, post your pictures in the gallery and more.
Products
Views
Rating
Date
Reviews
Hahnel Giga T Pro 2.4GHz Wireless Timer Remote
posted by Huntso

Tested the range, my garden is about 35 metres long and worked fine with me inside the back room, didn't interfere with my weather station transmitter either which I did wonde ...

10305

None

Sat December 11, 2010 11:02am

No reviews
Powered by: ReviewPost PHP vB3 Enhanced
Copyright 2006 All Enthusiast, Inc.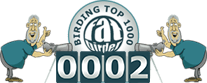 Search the net with ask.com