Welcome to BirdForum.
BirdForum is the net's largest birding community, dedicated to wild birds and birding, and is absolutely FREE! You are most welcome to
register
for an account, which allows you to take part in lively discussions in the forum, post your pictures in the gallery and more.
Products
Views
Rating
Date
Reviews
The Sibley Field Guide to Birds
posted by Gaga

The Sibley Guide to Birds East and West were both published in April 2003. They use the same artwork from the original Sibley Guide to Birds. These employ a different design, ...

577

8.00

Wed July 28, 2004 1:57pm

1 reviews
National Audubon Society - The Sibley Guide to Birds
posted by Gaga

The Sibley Guide to Birds represents more than 12 years of work by David Allen Sibley. The final draft of the artwork and text took over six years to complete, and the finishe ...

460

9.00

Wed July 28, 2004 1:52pm

1 reviews
Fieldfare "Whimbrel" Field Guide Cover
posted by Gaga

Zippered cover w/shoulder strap for Large sized guides - Reinforced front and back; - Zippered closure with an easy-grab toggle for quick access; - Waterproof shell of du ...

264

10.00

Wed July 28, 2004 1:13pm

1 reviews
Simplicity Tool Corp. of Portland, Oregon USA SDA-100 digiscope mount
posted by Forcreeks

Simplicity ™ Digiscoping Camera Adapter SDA-100 Dec. 11, 2003 Price: abt. $80 U.S. The SDA-100 was developed by Simplicity Tool Corp. , Portland, OR over the summe ...

29683

8.00

Thu December 11, 2003 1:42am

1 reviews
David & Charles Photographing Wild Birds by Chris Gomershall
posted by Andy Bright

Hardcover 160 pages Publisher: David & Charles; ISBN: 0817464166

507

8.00

Thu November 6, 2003 9:49am

1 reviews
Bird Images Birdwatching in Alaska
posted by Andy Bright

Narrated by Bill Oddie Alaska is a superb birdwatching destination and this video features the birds and places likely to be seen on a typical trip. It covers Homer Spit and ...

173

None

Thu November 6, 2003 6:07am

No reviews
Powered by: ReviewPost PHP vB3 Enhanced
Copyright 2006 All Enthusiast, Inc.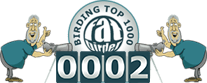 Search the net with ask.com