Welcome to BirdForum.
BirdForum is the net's largest birding community, dedicated to wild birds and birding, and is absolutely FREE! You are most welcome to
register
for an account, which allows you to take part in lively discussions in the forum, post your pictures in the gallery and more.
Products
Views
Rating
Date
Reviews
Zeiss Conquest 8x40 ABK
posted by Torview


3728

7.00

Mon July 9, 2012 6:00am

1 reviews
Pentax 8x21 UCF
posted by brianfellows

I got fed up with carrying heavy 8x40 binoculars around my neck so I down-sized and bought these super binoculars for £50. Still available at this price. Had my pair for abo ...

4266

None

Mon December 15, 2003 3:12pm

No reviews

Zeiss Victory 8x40
posted by Andy Bright

Magnification 8x Objective diameter 40 mm Field of view at 1000 m 135 m WW Infinite adjustment range to 3 m Focusing range of centerdrive -7dpt Diopter compensation ...

14133

8.50

Sun October 26, 2003 7:41am

2 reviews
Powered by: ReviewPost PHP vB3 Enhanced
Copyright 2006 All Enthusiast, Inc.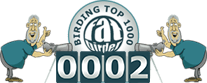 Search the net with ask.com