Welcome to BirdForum.
BirdForum is the net's largest birding community, dedicated to wild birds and birding, and is absolutely FREE! You are most welcome to
register
for an account, which allows you to take part in lively discussions in the forum, post your pictures in the gallery and more.
Products
Views
Rating
Date
Reviews
Zeiss Zeiss 15x45 BT Conquest
posted by canonman77

Zeiss have been making Top quality Binoculars for a long time & these are no exception. The styling & feel are superb, the optics are clear, crisp & very sharp. They have a 45 ...

15104

7.50

Fri January 9, 2009 10:03am

2 reviews
Zeiss 8x30 BT* Conquest
posted by Lou H

CONQUEST 8x30 B T* Magnification 8x Objective diameter 30 mm Field of view at 1,000 yds 360' Close focus 9.84' Diopter Compensation /-4 dpt Twilight performance ...

23780

9.00

Sat September 23, 2006 7:49pm

5 reviews
Powered by: ReviewPost PHP vB3 Enhanced
Copyright 2006 All Enthusiast, Inc.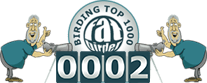 Search the net with ask.com