Welcome to BirdForum.
BirdForum is the net's largest birding community, dedicated to wild birds and birding, and is absolutely FREE! You are most welcome to
register
for an account, which allows you to take part in lively discussions in the forum, post your pictures in the gallery and more.
Products
Views
Rating
Date
Reviews
Hawke Hawke Frontier PC Open Hinge 10x42
posted by chris6

10 x 42 Open Bridge / Open Hinge design. Click adjustable dioptre ring, Semi-permanently attached objective covers, replaceable. Fully multi-coated optics. Phase corr ...

1233

None

Thu March 28, 2013 5:49pm

No reviews

Hawke Frontier ED 8x43
posted by Leif

The Hawke Frontier ED 8x43 binocular comes with ED glass in the objectives, phase correction coatings on the roof prisms, a 64 degree apparent field of view, waterproofing and ...

2196

9.00

Sun March 3, 2013 9:44am

1 reviews
Hawke Nature-Trek ED 65
posted by omega3

65mm ED angled spotting scope Focal length 386mm Zoom eyepiece 8-24mm Magnification 16 - 48x Angular FOV 2.5 deg @16x; 1.3 deg @48x Eye relief 18mm@16x Near focus 20ft@1 ...

11343

5.50

Thu March 3, 2011 5:38pm

2 reviews
Powered by: ReviewPost PHP vB3 Enhanced
Copyright 2006 All Enthusiast, Inc.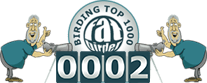 Search the net with ask.com