Welcome to BirdForum.
BirdForum is the net's largest birding community, dedicated to wild birds and birding, and is absolutely FREE! You are most welcome to
register
for an account, which allows you to take part in lively discussions in the forum, post your pictures in the gallery and more.
Products
Views
Rating
Date
Reviews
Swarovski Swarovision 8.5x42
posted by Sancho

Top-of-the-range open-hinge binoculars with wrap-around grip with new "Swarovision" technology, field flattener lenses and enhanced coating.

17476

9.75

Mon February 22, 2010 2:39pm

4 reviews
Omicron Estavia 10x42 Aspherics WP
posted by Jason Tan

Review and Field Trials of Omicron Estavia 10 x 42 Aspherics WP and Minox BL 10x42 BR Binoculars Recently, I field tested the Omicron Estavia 10X42 Aspherics WP binocular. ...

16652

9.00

Wed June 4, 2008 4:16pm

1 reviews
Bogen/Manfrotto 3021BN
posted by PaulAndAPentax

The 3021BN is one of the most versatile and popular tripods in the Manfrotto range. This renewed version is lightweight and portable enough to take in the field, yet strong en ...

17834

9.40

Thu November 22, 2007 10:21am

5 reviews
Nikon AFS VR 200-400mm f4
posted by Andy Bright

The AF-S VR Zoom-Nikkor 200-400mm f/4G IF-ED features a super telephoto zoom reach with the advantages of Vibration Reduction for increased photographic opportunities in low l ...

26866

9.50

Fri September 9, 2005 8:19am

4 reviews
Thayer Birding Software - Birder's Diary v3 - World Edition
posted by Gaga

This is by far the best listing and record keeping program for world birders. There are 10,241 species listed in the program as well as 500 sub-species that may soon be elevat ...

324

None

Wed July 28, 2004 2:22pm

No reviews
Powered by: ReviewPost PHP vB3 Enhanced
Copyright 2006 All Enthusiast, Inc.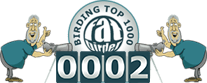 Search the net with ask.com