Welcome to BirdForum.
BirdForum is the net's largest birding community, dedicated to wild birds and birding, and is absolutely FREE! You are most welcome to
register
for an account, which allows you to take part in lively discussions in the forum, post your pictures in the gallery and more.
Products
Views
Rating
Date
Reviews
Wildlife Watching Supplies Neoprene lens cover
posted by postcardcv

Made from 4mm waterproof neoprene - good shock absorbency - perfect protection from knocks and scratches as well as excellent camouflage, covers can be reversed - stretch fit. ...

18826

10.00

Tue February 9, 2010 11:40am

2 reviews
Powered by: ReviewPost PHP vB3 Enhanced
Copyright 2006 All Enthusiast, Inc.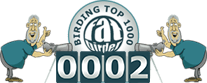 Search the net with ask.com