Welcome to BirdForum.
BirdForum is the net's largest birding community, dedicated to wild birds and birding, and is absolutely FREE! You are most welcome to
register
for an account, which allows you to take part in lively discussions in the forum, post your pictures in the gallery and more.
Products
Views
Rating
Date
Reviews
Swift 820ED 8.5x44 Audubon Porro ED Binoculars
posted by WGPu

First off, let's be honest. What most birders are primarily concerned with when they buy binoculars is the quality of the view they get when they put them up to their eyes. ...

3197

10.00

Wed June 12, 2013 5:58pm

1 reviews
Nikon Monarch ATB 8x42
posted by timshrek

Good, solid binocular for birders of all skill levels. The Nikon Monarch ATB 8x42 do well in any field setting whether you're in the woods, field birding, or hawk watching. Th ...

4041

9.00

Tue October 23, 2012 2:17pm

1 reviews
Nipon Optics Nipon 20-60x70 spotting scope
posted by Yan

This is a popular spotting scope ideal for a wide range of applications such as birding, sightseeing, target shooting, as well as for astronomical observations. The scope has ...

9582

None

Fri December 31, 2010 9:13pm

No reviews

Celestron UpClose 10x50
posted by phil123

From the Celestron website: A binocular for all reasons! From nature to NASCAR®, UpClose binoculars will handle your most demanding viewing challenges. The economically-pri ...

11916

None

Sun July 11, 2010 2:24pm

No reviews
Powered by: ReviewPost PHP vB3 Enhanced
Copyright 2006 All Enthusiast, Inc.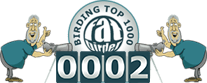 Search the net with ask.com