Welcome to BirdForum.
BirdForum is the net's largest birding community, dedicated to wild birds and birding, and is absolutely FREE! You are most welcome to
register
for an account, which allows you to take part in lively discussions in the forum, post your pictures in the gallery and more.
Products
Views
Rating
Date
Reviews
For the Birds, Inc IdentiFlyer ULTRA: SKU# IF06
posted by birdeye24

The IdentiFlyer ULTRA: Uses advanced digital technology to help birders and nature lovers identify 120 birds and 10 frogs by their songs and colors. Have fun by learning bird ...

5536

None

Wed December 14, 2011 12:43pm

No reviews

For the Birds, Inc Birdsong Identiflyer: Sku# IFO4
posted by birdeye24

Simply the best way to learn bird songs. The IdentiFlyer adds a new dimension to your interest in birds because it makes it easier to identify birds by learning their songs. ...

4905

None

Wed December 14, 2011 12:36pm

No reviews
Powered by: ReviewPost PHP vB3 Enhanced
Copyright 2006 All Enthusiast, Inc.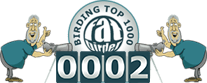 Search the net with ask.com