Welcome to BirdForum.
BirdForum is the net's largest birding community, dedicated to wild birds and birding, and is absolutely FREE! You are most welcome to
register
for an account, which allows you to take part in lively discussions in the forum, post your pictures in the gallery and more.
Products
Views
Rating
Date
Reviews
Roger Optics Compact Night Vision Monocular 3x Zoom
posted by Jamhot

Intensifier Tube Night Vision Monocular With 3x Magnification Own a true night vision scope capable of producing light amplification of up-to 1000x This new high resolut ...

5612

None

Sun September 11, 2011 11:36am

No reviews
Powered by: ReviewPost PHP vB3 Enhanced
Copyright 2006 All Enthusiast, Inc.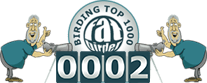 Search the net with ask.com