Welcome to BirdForum.
BirdForum is the net's largest birding community, dedicated to wild birds and birding, and is absolutely FREE! You are most welcome to
register
for an account, which allows you to take part in lively discussions in the forum, post your pictures in the gallery and more.
Products
Views
Rating
Date
Reviews
Bickerton Brothers Ltd Easy fill nut and seed hopper
posted by tomkins

This is an excellent way of keeping rodents away from your wild bird seed and you won't believe how quick it is to fill your feeders. Simply hang it on a wall or fence. Then ...

8836

None

Fri August 20, 2010 12:44pm

No reviews
Powered by: ReviewPost PHP vB3 Enhanced
Copyright 2006 All Enthusiast, Inc.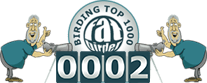 Search the net with ask.com