Welcome to BirdForum.
BirdForum is the net's largest birding community, dedicated to wild birds and birding, and is absolutely FREE! You are most welcome to
register
for an account, which allows you to take part in lively discussions in the forum, post your pictures in the gallery and more.
Products
Views
Rating
Date
Reviews
Mantra Lingua BirdMike Pro Pack
posted by hiral

The BirdMIKE PRO pack contains: 1 BirdMIKE 1 audio foldaway Fieldguide. 1 80page British Birds diary to record your birding experiences. 56 stickers of common British bi ...

19444

9.00

Thu August 12, 2010 12:07pm

2 reviews
Mantra Lingua BirdMike Lite
posted by hiral

BirdMIKE Lite is a simple and inexpensive way to start learning bird songs and calls without carrying lots of equipment. It is easy to use and fits into your pocket. BirdMIKE ...

13557

None

Thu August 12, 2010 11:52am

No reviews
Powered by: ReviewPost PHP vB3 Enhanced
Copyright 2006 All Enthusiast, Inc.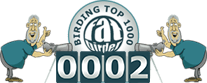 Search the net with ask.com