Welcome to BirdForum.
BirdForum is the net's largest birding community, dedicated to wild birds and birding, and is absolutely FREE! You are most welcome to
register
for an account, which allows you to take part in lively discussions in the forum, post your pictures in the gallery and more.
Products
Views
Rating
Date
Reviews
branhamphoto Ball n Cup
posted by ran

The Ball n Cup was designed to temporarily hold the weight and maintain focus of your camera and lens on the subject -enabling the flight shot so desirable- and yet be immedi ...

5876

None

Sun January 2, 2011 9:50am

No reviews
Powered by: ReviewPost PHP vB3 Enhanced
Copyright 2006 All Enthusiast, Inc.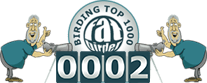 Search the net with ask.com