Welcome to BirdForum.
BirdForum is the net's largest birding community, dedicated to wild birds and birding, and is absolutely FREE! You are most welcome to
register
for an account, which allows you to take part in lively discussions in the forum, post your pictures in the gallery and more.
Products
Views
Rating
Date
Reviews
Bogen/Manfrotto 3021BN
posted by PaulAndAPentax

The 3021BN is one of the most versatile and popular tripods in the Manfrotto range. This renewed version is lightweight and portable enough to take in the field, yet strong en ...

17838

9.40

Thu November 22, 2007 10:21am

5 reviews
Nikon 300mm f/2.8G AF-S VR
posted by Andy Bright

Focal length: 300mm Maximum aperture: f/2.8 Minimum aperture: f/22 Vibration Reduction (VR) technology compensates for typical camera shake and extends your ability to ...

41692

9.50

Fri May 26, 2006 6:07am

3 reviews
Sigma 300-800mm f5.6 EX APO HSM
posted by Andy Bright

Lens Construction 18 Elements in 16 Groups Angle of View 8.2-3.1 degrees Number of Diaphragm Blades 9pcs Minimum Aperture F32 Minimum Focusing Distance 600cm(236.2") ...

50928

9.33

Mon October 24, 2005 1:31pm

3 reviews
Canon 350d Rebel XT
posted by Andy Bright

• 8.0 MP • 3 fps with up to 14 image burst • E-TTL II flash system • DIGIC II • 7-point AF • DPP RAW image processing software • Separate RAW/JPEG image recording ...

9552

9.43

Fri August 5, 2005 10:07am

7 reviews
Manfrotto 393 ( AKA Bogen 3421 )
posted by Andy Bright

Gimbal design tripod head for long camera lenses and scopes. Weight: 2.3lb

23523

8.88

Tue April 12, 2005 2:14pm

8 reviews
Sigma 300mm f4 APO Macro HSM
posted by Scott67

Corresponding AF Mount S M N P C Lens Constructions Groups 7 Elements 10 Angle of View (Diagonal) 8.2° Number of blade in diaphragm 9 Minimum Aperture (F) 32 ...

20893

8.67

Tue October 28, 2003 9:56am

3 reviews
Powered by: ReviewPost PHP vB3 Enhanced
Copyright 2006 All Enthusiast, Inc.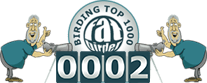 Search the net with ask.com