Welcome to BirdForum.
BirdForum is the net's largest birding community, dedicated to wild birds and birding, and is absolutely FREE! You are most welcome to
register
for an account, which allows you to take part in lively discussions in the forum, post your pictures in the gallery and more.
Recent Products - Photographic Luggage
MrJanGear Spitsbergen photo rucksack
hilgertom
GEM GEMSLRLPB01
Gronk08
Tamrac Expedition 8
postcardcv
Lowepro SlingShot 300 AW
Keith Reeder
Products
Views
Rating
Date
Reviews
GEM GEMSLRLPB01
posted by Gronk08

The GEM photo backpack is an ideal product for someone who can't strech to the prices of the better known manufactures such as LowPro. Although I have only had the product f ...

3844

None

Thu October 20, 2011 3:44am

No reviews
Powered by: ReviewPost PHP vB3 Enhanced
Copyright 2006 All Enthusiast, Inc.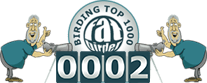 Search the net with ask.com