Welcome to BirdForum.
BirdForum is the net's largest birding community, dedicated to wild birds and birding, and is absolutely FREE! You are most welcome to
register
for an account, which allows you to take part in lively discussions in the forum, post your pictures in the gallery and more.
Recent Products - Digiscoping Equipment
Digidapter DigiDapter
Roy Halpin
novagrade Camera Phone Universal Adapter
Doug Porter
novagrade Nikon Camera Universal Adapter
Doug Porter
novagrade Canon Camera Universal Adapter
Doug Porter
Baader Microstage 6030 Digital Camera Adapter
Andy Bright
Zeiss Quick Adaptor
mickporter
Simplicity Tool Corp. of Portland, Oregon USA SDA-100 digiscope mount
Forcreeks
Photosolve Extend-a-view pro
Andy Bright
EagleEye Opticzoom Generic cable-release adapter bracket
Andy Bright
| | | | | | |
| --- | --- | --- | --- | --- | --- |
| | Products | Views | Rating | Date | Reviews |
Powered by: ReviewPost PHP vB3 Enhanced
Copyright 2006 All Enthusiast, Inc.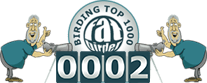 Search the net with ask.com