Welcome to BirdForum.
BirdForum is the net's largest birding community, dedicated to wild birds and birding, and is absolutely FREE! You are most welcome to
register
for an account, which allows you to take part in lively discussions in the forum, post your pictures in the gallery and more.
Products
Views
Rating
Date
Reviews
Meopta Meopro 6.5x32
posted by OpticsNerd1

The MeoPro 6.5x32 Binocular from Meopta may become a benchmark in lower magnification and wide optics. It claims excellent resolution and neutral color presentation capture. I ...

85

None

Thu December 5, 2013 11:03pm

No reviews
Powered by: ReviewPost PHP vB3 Enhanced
Copyright 2006 All Enthusiast, Inc.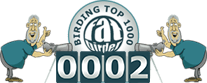 Search the net with ask.com