Welcome to BirdForum.
BirdForum is the net's largest birding community, dedicated to wild birds and birding, and is absolutely FREE! You are most welcome to
register
for an account, which allows you to take part in lively discussions in the forum, post your pictures in the gallery and more.
Recent Products - Prosumer Digital Camera Accessories
Hama Cable Release
TheBirdGarden
Nikon TC-E17ED
bkrownd
Nikon TC3-ED 3x Teleconverter
Andy Bright
Products
Views
Rating
Date
Reviews
Nikon TC-E17ED
posted by bkrownd

The Nikon TC-E17ED is a top-of-the line 1.7x teleconverter designed for the Nikon Coolpix 8800/8700/5700, but with an appropriate adapter ring it can be used on a wide varie ...

29440

10.00

Wed January 3, 2007 11:53pm

1 reviews
Nikon TC3-ED 3x Teleconverter
posted by Andy Bright

3x Teleconverter for Nikon Coolpix series cameras.

20543

6.50

Sat October 25, 2003 5:08pm

2 reviews
Powered by: ReviewPost PHP vB3 Enhanced
Copyright 2006 All Enthusiast, Inc.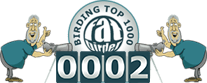 Search the net with ask.com