Welcome to BirdForum.
BirdForum is the net's largest birding community, dedicated to wild birds and birding, and is absolutely FREE! You are most welcome to
register
for an account, which allows you to take part in lively discussions in the forum, post your pictures in the gallery and more.
Recent Products - Compact Spotting Scopes
Vortex Nomad 20-60x60
woodpeckerwacko
Minox Macroscope 8x25
gwsudiro
Roger Optics Compact Night Vision Monocular 3x Zoom
Jamhot
Hawke Nature-Trek ED 65
omega3
Top Bow Archery DOUBLE VISION BLOCKERS
TOPBOW
Nikon ED50
tonyc4793
William Optics ZenithStar 66SD APO
Mpacker
Kowa TSN-664 Prominar ED Lens
Russ Jones
Kowa TSN-603 Prominar
Dialyt
Bushnell Spacemaster 15-45x 50mm
moondog
Leupold Leupold Golden Ring 15-30x50mm
ejdeltoro
OlivonOptics Resolute 55mm Angled Spotting Scope
davidhp
Pentax PF 65EDA
stuprice68
Nikon Fieldscope III/IIIA/IIIED/IIIEDA 60 mm
Pluvialis
Swarovski ATS65
Andrew
Opticron Mighty Midget 2
Andy Bright
Leica Televid 62 APO
Andy Bright
Swarovski ATS/STS 65HD
Andy Bright
Products
Views
Rating
Date
Reviews
William Optics ZenithStar 66SD APO
posted by Mpacker

Aperture 66mm F Ratio F/5.9 Focal Length 388 mm Objective Type SD Doublet, Air Spaced, Lens Shade Retractable Focuser Crayford with 1:10 ...

19749

9.67

Sun August 3, 2008 1:36pm

3 reviews
Zeiss Diascope 65 FL Angled zoom eyepiece 15-45x
posted by KorHaan

I decided on the Zeiss 65 FL almost three years ago. I wanted a waterproof, portable scope with zoom eyepiece, that could withstand the toughest field use. I'm not the least ...

4719

None

Mon April 9, 2007 10:13pm

No reviews
Powered by: ReviewPost PHP vB3 Enhanced
Copyright 2006 All Enthusiast, Inc.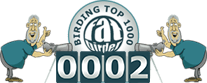 Search the net with ask.com