Welcome to BirdForum.
BirdForum is the net's largest birding community, dedicated to wild birds and birding, and is absolutely FREE! You are most welcome to
register
for an account, which allows you to take part in lively discussions in the forum, post your pictures in the gallery and more.
>
| | | |
| --- | --- | --- |
| Reviews | Views | Date of last review |
| 2 | 15287 | Sat September 1, 2012 |

| | | |
| --- | --- | --- |
| Recommended By | Average Price | Average Rating |
| 100% of reviewers | $224.00 | 10.0 |



Description:

The effective aperture of the lens is increased by one stop. Autofocusing does not operate if the effective maximum aperture is greater than f/5.6 (greater than f/8 on the EOS 1V and EOS 3).

Features

Dust and moisture resistant construction
Extends the master lens focal length by 1.4x
Minimum loss of lens performance
Reduces inner reflection for higher image quality

The new version II maintains the outstanding optics of the previous version, and adds enhanced weather- resistant construction, and improved anti-reflective surfaces in the barrel

Successor to the EF1.4x this model offers valuable improvements for further enhanced image quality. This extender allows users to combine practicality and functionality with a new optical system allowing them to extend the master lens focal length by 1.4x, with minimal loss of lens performance or image quality. With a dust- and moisture-resistant construction this extender has been designed to reinforce the EOS system. Specially designed to work in conjunction with the EOS-1V and IS super telephoto L-series lenses, it makes a highly dust- and water-resistant combination.

The EF1.4x II features improved anti-reflection materials inside the lens-barrel as well as improved coating around the outer edges of the lenses to reduce flare. All of these improvements will allow professional photographers to capture higher quality images than ever before.


Keywords:

canon, 1.4x, II, extender
Author
TwoBoy

Registered User

Registered: September 2004
Location: Randburg, South Africa
Posts: 127

| | |
| --- | --- |
| Review Date: Sat October 16, 2004 | Would you recommend the product? Yes | Price you paid?: $224.00 | Rating: 10 |




| | |
| --- | --- |
| Pros: | Optics, size. weight |
| Cons: | AF does not work with all cameras or lenses |


I only use it with my EF100~400L IS USM lens. Outstanding results. I cannot fault it when used with the 20D and 10D and the lens.

Happiness is.

------------------------------
TwoBoy - Always try to leave no tracks behind you

MikeB.

In my Landie, under a tree

Registered: October 2004
Location: Greenland, UK and Angola
Posts: 255

| | |
| --- | --- |
| Review Date: Sat September 1, 2012 | Would you recommend the product? Yes | Price you paid?: None indicated | Rating: 0 |




Now replaced by the 1.4 Mk3, which is significantly better.
Powered by: ReviewPost PHP vB3 Enhanced
Copyright 2006 All Enthusiast, Inc.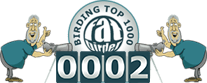 Search the net with ask.com