Welcome to BirdForum.
BirdForum is the net's largest birding community, dedicated to wild birds and birding, and is absolutely FREE! You are most welcome to
register
for an account, which allows you to take part in lively discussions in the forum, post your pictures in the gallery and more.
>
| | | |
| --- | --- | --- |
| Reviews | Views | Date of last review |
| 1 | 8264 | Fri April 25, 2008 |

| | | |
| --- | --- | --- |
| Recommended By | Average Price | Average Rating |
| 100% of reviewers | None indicated | 7.0 |



Description:

Canon's new EOS 30D brings proven EOS technology to a new level, giving photographers an unbeatable photographic experience. The EOS 30D incorporates a host of new features with Canon's highly acclaimed 8.2 megapixel CMOS sensor and DIGIC II Image Processor. The EOS 30D includes enhanced operational features such as a new 2.5 inch LCD monitor, true spot metering, a durable new shutter mechanism and Canon's Picture Style feature, all in an sturdy, magnesium-clad body. With all these new features the EOS 30D is truly perfection, refined.

-Exceptional digital SLR with exclusive 8.2 Megapixel Canon CMOS Sensor and DIGIC II Image Processor

-User-selectable high-speed and low-speed continuous shooting at 5 fps or 3 fps â?? up to 30 (JPEG), 11 (RAW) or 9 (RAW JPEG) consecutive frames when set at 5 fps and fast 0.15-second startup time

-Large 2.5 inch LCD monitor that can be viewed at extreme angles up to 170°

-New and improved features: Picture Style for superior command of in-camera color, contrast and sharpness, spot metering and shutter durability of approximately 100,000 cycles

-Impressive 9-point Wide-area AF with a dual precision sensor at the center

-One-touch direct printing and improved PictBridge features, including more custom print effects and printing with shooting information

-Fully compatible with all EF and EF-S Lenses and a wide range of EOS System accessories

Keywords:

Canon 30D
Author
Malcolm Stewart
Registered User

Registered: March 2004
Location: Milton Keynes
Posts: 414

| | |
| --- | --- |
| Review Date: Fri April 25, 2008 | Would you recommend the product? Yes | Price you paid?: None indicated | Rating: 7 |




| | |
| --- | --- |
| Pros: | 5fps. Same interface as my 5D. Low cost. |
| Cons: | AF - took too long to suss out what was wrong. |


I bought my s/h mint condition 30D in Spring 2007 and to start with it was used with my mint condition EF 300 f4L, & an outwardly battered EF 300 f2.8L, and with 1.4x & 2x Canon extenders - primarily shooting wildfowl on water from a sturdy tripod. Later it was used with a mint EF 300 f2.8L IS USM.

It's taken some time sorting out the focus problems which were largely front focus errors when used with the old 300 f2.8L; a lens which had initially seemed OK on my 5D. After analysing hundreds of shots & doing simple statistics I decided the lens was front focusing, and after getting the 300 f2.8L fixed (a tale in itself due to its age) I was still not getting the results I expected, so I went over to using the 5D with the 300 f2.8L & 2x. These were better despite losing the 1.6x factor.

Last autumn, I had Lehmanns check the 30D and correct its AF, and recent results with my EF 300 f4L have been fine. I must now check it again with the 300 f2.8L lenses. Thank goodness I'm not using film!

OK I have had some very good results but too many "easy shots" on bird targets were significantly front focused. Was it mis-alignment between the v/f centre focus spot and the AF sensor (picking up on the nearer water), or an AF body-lens problem? Seems like I may have had both, and it's taken around a year to get it sorted and have confidence again in my gear. (I had both lens and body adjusted independently, as I didn't want to lose the good AF accuracy which I got with other lenses and different extended subjects.)

I've just ordered a 1D MkIII so that I can take advantage of the Micro-adjustment facility, and am hoping that in future the errors will be mine rather than from the equipment.

------------------------------
- - - - - - - - -
Malcolm Stewart
Milton Keynes, UK
Powered by: ReviewPost PHP vB3 Enhanced
Copyright 2006 All Enthusiast, Inc.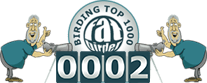 Search the net with ask.com