Welcome to BirdForum.
BirdForum is the net's largest birding community, dedicated to wild birds and birding, and is absolutely FREE! You are most welcome to
register
for an account, which allows you to take part in lively discussions in the forum, post your pictures in the gallery and more.
>
| | |
| --- | --- |
| Nikon Travelite EX (Prostaff ATB) 8X25 | |

| | | |
| --- | --- | --- |
| Reviews | Views | Date of last review |
| 3 | 24646 | Tue April 3, 2012 |

| | | |
| --- | --- | --- |
| Recommended By | Average Price | Average Rating |
| 100% of reviewers | None indicated | 8.7 |



Description:

Porro prism with 8X mag and a 25mm objective lens. The body is totally rubber armoured.

Minimum focusing distance is about 2.2m.

The eyepieces screw out and click into place. A plastic cap is supplied to cover them when not in use. There is no protection for the objective lenses.

Keywords:

Nikon Travelite Prostaff waterproof 8X25
Author
lumachrome
Registered User

Registered: May 2006
Location: UK
Posts: 17

| | |
| --- | --- |
| Review Date: Sat July 1, 2006 | Would you recommend the product? Yes | Price you paid?: None indicated | Rating: 10 |




| | |
| --- | --- |
| Pros: | Size, ergonomics image quality and brightness, waterproof, light & sturdy |
| Cons: | no objective lens cover supplied |




ikw101
Registered User

Registered: August 2005
Location: Manchester
Posts: 680

| | |
| --- | --- |
| Review Date: Fri August 18, 2006 | Would you recommend the product? Yes | Price you paid?: None indicated | Rating: 9 |




| | |
| --- | --- |
| Pros: | lightweight, pocket sized, close and mid-distance performance |
| Cons: | twilight performance and narrow field of view |


I bought the 8x25 model as a pocket sized pair of bins to use mainly whilst out walking the dog in early mornings or evenings. Normally I use a pair of 8.5x44 ED Swift Audubon\'s so I\'ll try and avoid making too many unfair comparisons other than to say that I doubt any binoculars with a 25mm objective lens (or less) are suitable as a main pair unless your birdwatching is restricted to sunny days in mid-summer.
The best thing about the Nikons is the remarkably high quality of the optics. Both near and mid-distance subjects are easy to resolve with a high amount of detail being present. The colours are neutral with no obvious chromatic aberration. Of particular importance given the size of the objectives the entire view remains in focus with little loss of quality towards the edge. The binoculars are comfortable and can easily be held and focused in one hand (definitely important when you\'ve got a dog lead in the other). Sometimes you just come across binoculars that feel right the Nikons can be added to that list. In addition they are also very light. In fact its easy to forget you\'re wearing them.
The negatives are that after being used to big bins with a wide field of view lining these up with your eyes and then a bird takes a bit of practice. Likewise for my eyes these binoculars do not gather sufficent light to be able to resolve a high level of detail during twilight at distance. However they do just about gather enough light to enable identification to be made. It\'s a shame an ED or Fluorite type lens option isn\'t available. If ever Nikon do introduce this as an option it\'d be worth paying the extra.
I enjoy using these binoculars and they are very good value for the money. Whilst I would have difficulty in recommending these as a main pair they were bought as a second pair and they serve that purpose extremely well.

gwsudiro

x-frost, Mahar the Binohead

Registered: October 2009
Location: Solo, Central Java, Indonesia
Posts: 365

| | |
| --- | --- |
| Review Date: Tue April 3, 2012 | Would you recommend the product? Yes | Price you paid?: None indicated | Rating: 7 |




| | |
| --- | --- |
| Pros: | rugged, compact, waterproof |
| Cons: | different quality in each sample |


value for money binoculars, good for kids or for travelling light.

but mine has a little collimation problem, so maybe better if we check more than one sample before buying.. :)

------------------------------
binocolorization
Powered by: ReviewPost PHP vB3 Enhanced
Copyright 2006 All Enthusiast, Inc.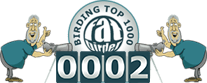 Search the net with ask.com