Welcome to BirdForum.
BirdForum is the net's largest birding community, dedicated to wild birds and birding, and is absolutely FREE! You are most welcome to
register
for an account, which allows you to take part in lively discussions in the forum, post your pictures in the gallery and more.
>
| | |
| --- | --- |
| Burris Landmark 20-60x 80mm | |

| | | |
| --- | --- | --- |
| Reviews | Views | Date product posted |
| 0 | 2859 | Wed January 24, 2007 |

| | | |
| --- | --- | --- |
| Recommended By | Average Price | Average Rating |
| No recommendations | None indicated | None indicated |



Description:

Knowing a local hunting Store retailer very well I was given the chance to go through a lot of scopes recently while looking to purchase one for myself. I even tried the Leica 80mm Apo although knew I couldn't really afford it!! If I had really, really liked it I would have found a way but to be honest it didnt impress me THAT much..and I own Leica Binos so I'm not being biased here.

At the last minute (having decided there was nothing in my price range that really did it for me - The leica was nice but not that great to justify the $) I was handed the Burris Landmark 20-60x 80mm scope. The first thing I noticed was that the tripod mount was nearly under the eyepiece which would make it very front heavy. I almost passed it back but decided to have a quick squizz. Wow! I was really impressed! This scope was really sharp! At 20-40x it was great and at 60x still usable but the so called sweet spot was very small. However at 40x this scope was all I needed.

Now I just had to work out a way of getting around the tripod mount.

Doing quite a bit of photography I already had a solid tripod setup with a ball head and dove-tail clamp so I ordered the P-50 Arca-Swiss Style 6.58" Lens plate from naturescapes.

Mounting the Scope on the rear of the plate and clamping the front of the plate to the dovetail tripod head gave me the perfect solution.

This is now a really great scope for the $ involved.

I wouldn't expect everyone to go to the lengths I did to correct a bad design fault but if Burris correct this in the future they will have one of the best scopes on the market in the lower price bracket.

So if you can come up with a way around the tripod mount this is an excellent scope. It blew the pants of the Lower priced Nikons, Leupolds etc so well worth a look!





Keywords:

Burris Landmark 20-60x 80mm Spotting Scope
Powered by: ReviewPost PHP vB3 Enhanced
Copyright 2006 All Enthusiast, Inc.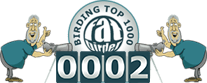 Search the net with ask.com