Welcome to BirdForum.
BirdForum is the net's largest birding community, dedicated to wild birds and birding, and is absolutely FREE! You are most welcome to
register
for an account, which allows you to take part in lively discussions in the forum, post your pictures in the gallery and more.
>
| | | |
| --- | --- | --- |
| Reviews | Views | Date of last review |
| 2 | 22743 | Fri December 30, 2011 |

| | | |
| --- | --- | --- |
| Recommended By | Average Price | Average Rating |
| 100% of reviewers | $178.00 | 7.5 |



Description:

A cheap alternative with excellent views for birders who do not mind carrying an extra few hundred grams of equipment with them. I have used the C90 for birding in Afria, Asia, Europe and the Americas with success. Some technical information:
Aperture = 3.5 inches (90mm); Focal length = 1200mm; Focal ratio = f/13.3
Angle of view = 1.4 degrees; Field of view = 24m at 1000m (73 yards)
Relative brightness = 5.9; Twilight factor = 58.1; Light gathering power = 165.2
Close focus = 6.09m (20 feet); Weight = 1.6 kg (3.1 lbs); Physical length = 279mm (11 inches)

The three 1.25 inch eyepieces (ocular) I am using at present:
1. X-Cel Series 1.25 in - 21mm (item no. 93392) = 1200 divided by 21 = 57x magnification; FOCAL LENGTH = 21 mm (0.83 in); EYE RELIEF = 20 mm (0.79 in)
ANGULAR FIELD OF VIEW = 55 °; SIZE = 1.25 in (31.75 mm)
2. 32mm Plossl = 1200 divided by 32 = 37.5x magnification; Eye relief = 22mm
3. 2x Barlow Ultima fully multicoated

Maximum usable power: As a rule of thumb, the maximum usable power is equal to 60 times the aperture of the telescope (in inches) under ideal conditions. 60 x 3.5 = 210x for the C90 Mak = 5.7mm ocular or 11.42mm ocular with 2x Barlow.

Lower limit of usable power: Nighttime: 3 to 4 times the aperture in inches = 3 or 4 x 3.5 = 10.5-14x magnification. Daytime: 6 to 10 times the aperture = 6 or 10 x 3.5 = 21-35x. With these lower powers, the images will be much brighter and crisper, providing more enjoyment and satisfaction with the wider fields of view. Powers lower than this are not useful with most telescopes and a dark spot may appear in the center of the eyepiece in a Catadioptric or Newtonian telescope due to the secondary or diagonal mirror's shadow.

Focal ratio: This is the ratio of the focal length of the telescope to its aperture. To calculate, divide the focal length (in mm) by the aperture (in mm). For the C90 it is 13.3

Exit pupil diameter: The exit pupil of a telescope is the circular beam of light that leaves the eyepiece being used and is measured in mm. To calculate exit pupil, divide the aperture (in mm) by the power of the eyepiece being used.
For 21mm lens (57x): 90 divided by 57 = 1.58;
For 32mm lens (38x): 90 divided by 38 = 2.36
Or, you can calculate the exit pupil by dividing the focal length of the eyepiece (in mm) by the focal ratio of the telescope.

LIGHT GATHERING POWER (LIGHT GRASP): This is the telescope's theoretical ability to collect light compared to your fully dilated eye. It is directly proportional to the square of the aperture. You can calculate this by first dividing the aperture of the telescope (in mm) by 7mm (dilated eye for a young person) and then squaring this result. In theory, when you double the aperture of a telescope, you increase its resolving power by a factor of two and boost its light gathering ability by a factor of four. But more importantly, you also reduce the area of the airy disk by a factor of four resulting in a sixteen-fold gain in stellar image brilliance.
90 divided by 7 = 12.85; squared, this is 165.2


Keywords:

Cheap scope
Author
rockydoc
Registered User

Registered: November 2004
Location: Netherlands
Posts: 3

| | |
| --- | --- |
| Review Date: Thu March 22, 2007 | Would you recommend the product? Yes | Price you paid?: $178.00 | Rating: 7 |




| | |
| --- | --- |
| Pros: | Clear image right up to the edges |
| Cons: | Bulky and a bit heavy |


Good value for the money and excellent to use as a scope for beginners. Others who have looked through scope were amazed at the quality of the image. An owner of one of the very expensive scopes grudgingly admitted that it had a good image...
Can also be used for some amateur astronomy. The moon for example can be seen in a lot of detail.

black crow
Registered User

Registered: December 2011
Location: ashland oregon
Posts: 933

| | |
| --- | --- |
| Review Date: Fri December 30, 2011 | Would you recommend the product? Yes | Price you paid?: None indicated | Rating: 8 |




| | |
| --- | --- |
| Pros: | Low cost, Decent optics, multiple use, high power views. |
| Cons: | heavy |


I love this little scope. I have an upper deck that looks out on a somewhat open mountain side about three miles away and I spend many hours scanning for elk and coyotes etc. At 39x or 56 x? I can read street signs several miles away if the viewing conditions are excellent. Of course with this kind of magnification that isn't the usual. Fair to Good is the usual.

The views of the moon can be stunning again with very good viewing conditions. With 90mm this scope has severe limits for astronomy but as a inexpensive spotting scope that can give outstanding views over long distances it's really a lot of bang for the buck.

------------------------------
Beneath the civilized veneer, man remains the supreme predator. Cursed with what he believes is understanding, his true soul blossoms godlike in the heart of the nuclear inferno.
Powered by: ReviewPost PHP vB3 Enhanced
Copyright 2006 All Enthusiast, Inc.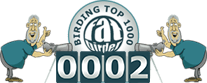 Search the net with ask.com