Welcome to BirdForum.
BirdForum is the net's largest birding community, dedicated to wild birds and birding, and is absolutely FREE! You are most welcome to
register
for an account, which allows you to take part in lively discussions in the forum, post your pictures in the gallery and more.
>
| | |
| --- | --- |
| Zeiss Diascope 65 FL Angled zoom eyepiece 15-45x | |

| | | |
| --- | --- | --- |
| Reviews | Views | Date product posted |
| 0 | 4526 | Mon April 9, 2007 |

| | | |
| --- | --- | --- |
| Recommended By | Average Price | Average Rating |
| No recommendations | None indicated | None indicated |



Description:

I decided on the Zeiss 65 FL almost three years ago. I wanted a waterproof, portable scope with zoom eyepiece, that could withstand the toughest field use.
I'm not the least bit disappointed , I use the scope almost daily and it lives up to the expectations every single time out in the field.
The view is very wide, 56 meters on a 1000 m at 15x, 26 meters on a 1000m at 45x, very bright and very sharp. At 15x the edge sharpness is a bit soft, but by zooming in a bit this effect disappears and the wide view is sharp to the edge.
I prefer the zoom eyepiece to the fixed 30x eyepiece I also own, the 45x I even use for seawatching.
There are two focussing wheels for course and fine focussing on top of the scope, easy to reach; the course focussing wheel is too stiff to use comfortably, it has not loosened up in the past 3 years; the fine focusser is nice and smooth.
The scope body is all metal, which is a nuisance in winter to handle without gloves, even in early mornings in summer it's a cold touch; so I bought the Zeiss neoprene stay on cover that fits like a glove and the problem is solved.
From comparisons with other small top end scopes in the field I learned that the Zeiss is on par with these or better IMO; none had as wide a view that the Zeiss provides, it's quite easy to track flying birds or to scan the sky for raptors.
On the day of purchase I compared it to a Swarovski 65 non-HD with angled zoom eyepiece also, and I found I could see more details on a testcard 100 feet away with the 45x of the Zeiss than with 60x of the Swarovski; it was much brighter also.
Needless to say I bought the Zeiss instantly, thoroughly pleased with the optical excellence I had been looking for.
O, I almost forget to mention a close focus of 4 meters; not really necessary, but great fun to have sometimes!

I trust this scope will give me great views of a great many birds well into the 21st century.

Greetings, Ronald Sinoo

Keywords:

portable sturdy relaxed viewing
Powered by: ReviewPost PHP vB3 Enhanced
Copyright 2006 All Enthusiast, Inc.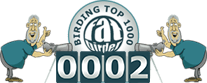 Search the net with ask.com