Welcome to BirdForum.
BirdForum is the net's largest birding community, dedicated to wild birds and birding, and is absolutely FREE! You are most welcome to
register
for an account, which allows you to take part in lively discussions in the forum, post your pictures in the gallery and more.
>
| | | |
| --- | --- | --- |
| Reviews | Views | Date of last review |
| 2 | 14567 | Mon February 9, 2009 |

| | | |
| --- | --- | --- |
| Recommended By | Average Price | Average Rating |
| 100% of reviewers | $1,100.00 | 9.0 |



| | |
| --- | --- |
| Description: | The PENTAX K10D digital SLR features an array of PENTAX innovations including 10.2 effective megapixels and a PENTAX-developed Shake Reduction (SR) system that effectively offers a 2.5 to 4 stop advantage for sharp, blur-free images even under difficult shooting conditions, such as macro and telephoto photography or low light settings without a flash. Also featured is a newly-developed Pentax Real IMage Engine (PRIME) designed exclusively for PENTAX digital SLR cameras to produce well-balanced, true-to-life images. PENTAX also incorporated a new high performance 22 bit A/D converter to quickly transfer images with accurate color tones and richer gradation from the CCD to the imaging engine. The new Dust Removal (DR) system incorporating PENTAX-original Special Protect (SP) coating helps keep the CCD surface dust-free, and adds a shift mechanism to shake dust off the CCD. All this is housed in a dependable dust-proof, weather-resistant body construction featuring 72 seals throughout the camera to allow photographers to continue shooting even in dusty or rainy environments. |
| Keywords: | pentax k10d pentaxdslr |
Author
PaulAndAPentax

Registered User

Registered: October 2007
Location: Florida
Posts: 32

| | |
| --- | --- |
| Review Date: Thu November 22, 2007 | Would you recommend the product? Yes | Price you paid?: $1,100.00 | Rating: 9 |




| | |
| --- | --- |
| Pros: | Ergonomics, Weather Sealing, Backwards lens compatible |
| Cons: | AF speed, Availability of (auto-focus) prime glass |


I have owned the K10D w/D-BG2 battery grip for about 10 months now. I have used it mostly to photograph birds, other wildlife, and landscapes. So far I have been pretty pleased with the camera even though the fps and AF speed appear to be a bit behind the top two comparable models. What I like so much is that I can take this camera anywhere and not worry about water, dust, or other damage from the elements. Further, bang for the buck it's a great deal. The 3fps is manageable for shooting birds in good light. Low light creates somewhat of a challenge but most of us look for good light anyway. Focusing is accurate and color reproduction is excellent. This camera really feels great in my hands and is neither too heavy nor too light. All of the controls I use the most are easy to manipulate.

Coupled with the Bigma (Sigma 50-500mm) this package has made a pretty good amateur/advanced amateur set up for birding and wildlife. I found that the battery grip is a great addition and is balanced quite well when using the Bigma. The grip holds a battery, an extra memory card, and the wireless remote for the K10D.

I am looking to add a Sigma 300 f/2.8 to the arsenal soon. Rumors are that in January, Pentax will announce a new semi-pro camera above this model also.

Here are some winners from the K10D:

http://farm2.static.flickr.com/1295/...473515f5_b.jpg

http://farm2.static.flickr.com/1124/...3389e515_b.jpg

http://farm3.static.flickr.com/2332/...5e41d205_b.jpg

mikfoz

It's not a competition. Watch the birdy!

Registered: December 2008
Location: Blackpool
Posts: 1417

| | |
| --- | --- |
| Review Date: Mon February 9, 2009 | Would you recommend the product? Yes | Price you paid?: None indicated | Rating: 9 |




| | |
| --- | --- |
| Pros: | Bombproof construction and built in shake reduction |
| Cons: | Slow FPs in burst mode |


This camera is still a great buy if you want a budget SLR. I've been massively impressed with it as a replacement for my *istDS. Metering is consistently bang on the money in difficult lighting circumstances.

From a purely use in the field perspective one thing I've found great is the ability to use a thumbwheel to go from pattern to selective to spot on AF and pattern to centre weight to spot on metering without resort to menus. You can similarly tweak auto bracketing via a button and thumbwheel. Info in the viewfinder is comprehensive and the top panel is well set out and easy to understand. The Fn menu is similar to the *istDS to use and pretty quick to access.

Image quality is good; criticisms of JPEG quality are largely unfounded in most real situations and the RAW formats are stunningly crisp.

Also worth a mention is the anti-shake function. I could get a sharp image at 210mm at 1/70s hand-held but it was impossible without it, no matter how much I concentrated. Some people will get less benefit due to poor technique. and it won't save you if you are incapable of holding a camera poperly, but if you can already hold one steady this will give you great results with any Pentax lens.

I've been really impressed with this as an upgrade. I honestly can't see why anyone but a professional photographer would want any more out of a camera and I've yet to really hit any niggles. I know the K20D is out there, but at half the pricce this is well worth consideration if money is, in fact, for you, an object.

------------------------------
Marton Mere is not the same place as Martin Mere - My bird pics on Flickr.

Regards, Mike.
Powered by: ReviewPost PHP vB3 Enhanced
Copyright 2006 All Enthusiast, Inc.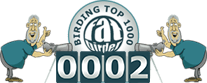 Search the net with ask.com