Welcome to BirdForum.
BirdForum is the net's largest birding community, dedicated to wild birds and birding, and is absolutely FREE! You are most welcome to
register
for an account, which allows you to take part in lively discussions in the forum, post your pictures in the gallery and more.
>
| | | |
| --- | --- | --- |
| Reviews | Views | Date of last review |
| 3 | 11282 | Mon December 14, 2009 |

| | | |
| --- | --- | --- |
| Recommended By | Average Price | Average Rating |
| 100% of reviewers | None indicated | 9.3 |


supersize

| | |
| --- | --- |
| Description: | Ball tripod head. Single trigger action unlocks head on squeeze then locks immediately on release. Also has levelling spirit level and panorama rotation around horizontal axis. Locking quick release by bayonet-style mounting. |
| Keywords: | SLIK single action trigger ball tripod head |
Author
mikfoz

It's not a competition. Watch the birdy!

Registered: December 2008
Location: Blackpool
Posts: 1417

| | |
| --- | --- |
| Review Date: Mon May 11, 2009 | Would you recommend the product? Yes | Price you paid?: None indicated | Rating: 9 |




| | |
| --- | --- |
| Pros: | Ease of use, solid construction, secure camera mount, ergonomic |
| Cons: | Need third hand to move camera and zoom at same time, trigger hand can become tired with extended tracking of flying birds. |


The first thing to strike you on removing it from the box is its solidity. All the bits subject to maximum wear and tear are metal in construction. Attaching it to your tripod mount is simple enough and you can actually get a decent grip on the thing to tighten the thread. Further evidence of excellent build quality can be seen by looking at the ball mechanism which looks like it would take a direct hit from a bullet.

The quick release shoe for the camera looks unconventional if you're used to those plastic wedges. It attaches via a bayonet mount which clicks reassuringly into place and needs a caplock depressing to disengage it. The whole thing will rotate through almost 360° independently of the ball head to allow you to take panoramas and pan accurately. A solid (I'll be using this word a lot) thumblock fixes the position firmly.

Using the ball head is almost shockingly simple. You squeeze the trigger and the head moves freely round the ball. Release it and it locks. That's it.

There's a collar with a slot in it to decide which axis you want the maximum elevation/depression in which then follows you round after you've gone past the initial restriction. Once you're happy with the position you release the trigger and it stays where you left it without creeping. Should you accidentally lose grip on the trigger assembly it locks instantly so your camera doesn't swing round like a pendulum and overbalance your tripod.

The trigger is weighted just about right, feels fine in my large hands and not in any way fiddly, yet is just as useable for people with smaller hands due to a no-nonsense ergonomic shape and feels solid. You can part depress it to give a more fluid feel or fully depress it to rotate with very little friction.

There's little more to be said about operating it: it really is unbelievably simple.

A drawback in use is that with one hand on the head and another on the camera shutter you need a third hand to operate zoom or any other lens function while tracking a bird. This puts it at a disadvantage to a gimbal mount. However, this is offset by the secure lock for composing for more static subjects that's less vulnerable to nudging the camera.

In terms of ruggedness, it easily copes with mounting my Sigma 50-500 and a Pentax K10 and there's no creep once the mount has locked regardless of the position it has been left in. There's absolutely no way the camera and tripod head will accidentally detach, and failure of the mount is unlikely except under a totally catastrophic impact.

In summary, this a solid and relatively cheap solution to using a tripod and freely tracking moving subjects or taking a firmly fixed postion with faff-free lock and unlock of the head. Recommended.

------------------------------
Marton Mere is not the same place as Martin Mere - My bird pics on Flickr.

Regards, Mike.

Claymore
Registered User

Registered: December 2005
Location: SCOTLAND
Posts: 874

| | |
| --- | --- |
| Review Date: Thu May 28, 2009 | Would you recommend the product? Yes | Price you paid?: None indicated | Rating: 10 |




Totally agree with above, I use mine with a 500mm no problem

BIRDERSMS

Registered User

Registered: December 2003
Location: Vienna
Posts: 21

| | |
| --- | --- |
| Review Date: Mon December 14, 2009 | Would you recommend the product? Yes | Price you paid?: None indicated | Rating: 9 |




| | |
| --- | --- |
| Pros: | durable |
| Cons: | need treaining for flight observations |


I still have one SLIK 2100 from ~1995 in use. It is
unbreakable (survived 3 crashes)
ball not loose after many years even

Well, it needs some training and for excursions it was a bit tricky for those who wanted to move my scope...
Excellent for flight observations of migration raptors, etc.
The ball-lock-release pistol is one thing you must get used to. Maybe a good training for hunters leaving their bloody hobby and starting birding....

Really a jolly good ball head.

------------------------------
Martin

BIRDERSMS - bird.at MEDIA
The Pannonian Bird Experience 2010
www.birdexperience.org
Austria
Powered by: ReviewPost PHP vB3 Enhanced
Copyright 2006 All Enthusiast, Inc.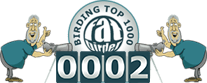 Search the net with ask.com