Welcome to BirdForum.
BirdForum is the net's largest birding community, dedicated to wild birds and birding, and is absolutely FREE! You are most welcome to
register
for an account, which allows you to take part in lively discussions in the forum, post your pictures in the gallery and more.
>
| | | |
| --- | --- | --- |
| Reviews | Views | Date product posted |
| 0 | 7655 | Sun November 22, 2009 |

| | | |
| --- | --- | --- |
| Recommended By | Average Price | Average Rating |
| No recommendations | None indicated | None indicated |


supersize

Description:

This carbon fibre tripod of class A manufacturer Gitzo has three sections. With my height of 1.93 meters I do not have to pull the third section fully when I use it with my spotting scope (see review Kowa TSN 883) so the center column has never been used.

A review of the Twentse Vogelwerkgroep (twente Birdgroup) pulled me to this tripod to replace my Swarovski Tripod 1 (Manfrotto). I do use it with my 2 year old Manfrotto RC 128 fluid head and i't's a very solid combination.

Due the carbon fibre this tripod is so very solid that even in a storm looking at gulls is still very pleasant. A friend who bought one is into digiscoping with an Swarovski AT80 HD and his opinion is: "it looks like I have a new spotting scope!!".

The sections are locked with twis/rotation locks. But the click/stop of my older tripod worked quicker i.m.o. Antoher tip: please mark the last section so the user remebers easily the ideal position!

But..... these tips are worthless because this tripod is no longer in production. I bought in sale for less than half the advised price (adv price in The Netherlands € 700). it's repleced by the G2537 or something like that which one is less heavy. Mine weighs about 1,7 kg. My next fluid head will be the G2380.

I do have the feeling that this tripod is one for life!!!

Keywords:

Tripod carbo fibre tripod top class
Powered by: ReviewPost PHP vB3 Enhanced
Copyright 2006 All Enthusiast, Inc.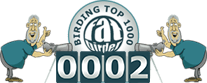 Search the net with ask.com