Welcome to BirdForum.
BirdForum is the net's largest birding community, dedicated to wild birds and birding, and is absolutely FREE! You are most welcome to
register
for an account, which allows you to take part in lively discussions in the forum, post your pictures in the gallery and more.
>
| | | |
| --- | --- | --- |
| Reviews | Views | Date of last review |
| 3 | 15056 | Tue May 10, 2011 |

| | | |
| --- | --- | --- |
| Recommended By | Average Price | Average Rating |
| 100% of reviewers | None indicated | 9.3 |



Description:

The Canon EOS-1D Mark IV features a newly developed 16.1-megapixel APS-H size (27.9 x 18.6 mm) CMOS sensor and Dual DIGIC 4, comprising two high-performance DIGIC 4 image processors, making possible an expanded normal ISO sensitivity* range of 100–12,800 for beautiful image quality with low noise at all settings. The camera also allows an extended ISO range of 50–102,400. Low-sensitivity settings support outstanding results for outdoor portrait-photo shoots under bright lighting conditions or when using large strobe lights in a studio environment, while high-sensitivity settings boost performance when shooting indoor sports action and night games or conducting nighttime photojournalism. The camera makes possible a continuous shooting speed of up to approximately 10 frames per second for up to approximately 121 large JPEG images in a single burst.

The EOS-1D Mark IV's newly developed 45-point AF (autofocus) sensor, including 39 cross-type AF points with sensitivity up to f/2.8, ensures greatly improved focusing accuracy. Equipped with AI Servo AF II, incorporating a new algorithm, the camera achieves high levels of AF stability and tracking performance.

Keywords:

Canon 1D MkIV DSLR
Author
Richard Witham
Registered User

Registered: January 2011
Location: Barnard Castle
Posts: 16

| | |
| --- | --- |
| Review Date: Fri January 28, 2011 | Would you recommend the product? Yes | Price you paid?: None indicated | Rating: 10 |




| | |
| --- | --- |
| Pros: | Pro-Spec Camera, Superb AF, 10 shots per second |
| Cons: | Price |


I have now been using this camera for approximately a year and have found it not wanting in any respect. I have taken over 20,000 images in that period using the camera and the 1D MkIV has become my choice for any wildlife photography. A fully charged battery will last several days shooting at a rate or 500-750 per day (I always carry a back-up though).

Coupled with the Canon 300mm f2.8 L IS Lens, the 1D MkIV is my first choice for any flight or action shots since the AF is fast and precise. For close-ups, my prefered set-up is the 500mm f4 L IS Lens often with the 1.4x extender. The APS-H size sensor gives an additional 'magnification' of 1.3 bringing the latter camera/lens combination to an equivalent of over 900mm, or in 35mm camera terms a 18x magnification over the 50mm lens. Examples of the results can be found in my gallery.

I realise that this camera is cost prohibitive to a lot of people, however, after using other Canon DSLR cameras I would not swap it and certainly recommend it for any serious photographer in this field.

Scoop01
Registered User

Registered: February 2011
Location: Australia
Posts: 18

| | |
| --- | --- |
| Review Date: Wed February 9, 2011 | Would you recommend the product? Yes | Price you paid?: None indicated | Rating: 9 |




| | |
| --- | --- |
| Pros: | Great Camera beats the 1D MKIII by a long shot |
| Cons: | Price |


I love my MkIV its a great step up from my Mark III's, The screen on the back is much better than the MKIII. the MKIII is still a great camera but if you need to up the ISO then this camera has the capabilities, for people who can't afford a camera like this the 7D is very close in picture quality.

johnf3f
johnf3f

Registered: April 2011
Location: South Wales UK
Posts: 623

| | |
| --- | --- |
| Review Date: Tue May 10, 2011 | Would you recommend the product? Yes | Price you paid?: None indicated | Rating: 9 |




| | |
| --- | --- |
| Pros: | Resolution, Autofocus, high ISO, battery life etc.etc... |
| Cons: | PRICE! Weight |


I have had my 1D4 for over a year now and can thoroughly recommend it. It's not perfect - nothing is! The price is rather steep and the weight seems unnecessarily heavy to me, though the tank-like build inspires confidence. To me the most impressive attribute of this camera is it's combination of resolution and speed. The speed is no better than the 1D3, though the AF seems to lock on faster - this is an impression as I have no way of measuring it a 9 or 10 FPS! The resolution is a marked improvement on any other DSLR I have tried. There are plenty of cameras with higher pixel densities or higher pixel counts, however this means little or nothing -to most bird photographers you can never get enough focal length so, unfortunately, some cropping is frequently necessary and with this camera one can be fairly vicious and still get top quality A3 prints. Some don't like the 1.3 crop - I do! As a do it all format I prefer it to my full frame nearly all of the time and this sensor is quite a leap in quality over any of the 1.6 crops I have tried.
There is quite a steep learning curve with this camera and I am still well down the ladder - but the images are GREAT!
If you can afford one get one, if not sell a Kidney - that's why God gave you two!
Powered by: ReviewPost PHP vB3 Enhanced
Copyright 2006 All Enthusiast, Inc.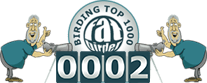 Search the net with ask.com