Welcome to BirdForum.
BirdForum is the net's largest birding community, dedicated to wild birds and birding, and is absolutely FREE! You are most welcome to
register
for an account, which allows you to take part in lively discussions in the forum, post your pictures in the gallery and more.
>
| | | |
| --- | --- | --- |
| Reviews | Views | Date of last review |
| 2 | 8612 | Sat October 12, 2013 |

| | | |
| --- | --- | --- |
| Recommended By | Average Price | Average Rating |
| 100% of reviewers | None indicated | 9.0 |


supersize

Description:

The Lensmaster RH-1 made from a lightweight alloy has surprised me a hell of a lot. First of all it is the single arm gimbal, something I ignored for some reason, imagining that the 'normal' double arm gimbal must somehow be better. I have no idea why this single arm (I call it a sidekick) is so much more user friendly but it just is.
I got mine in June this year and liked it so much it was the only tripod support I took with my on a wildlife trip to Crete in July. B****Y H**L it was hot !! That's why I am wearing the white shirt in the pic.
This gimbal is soooo smooth, I don't think there is anything smoother on the market no matter how much you spend. I tested it a fair bit before I bought it. It all worked perfectly well but the acid test for gimbals is HOW SMOOTH IS IT? You find this out when you are doing a slow pan. If the gimbal is not well made there will be little 'drags' but no, this is spot on. I put my Canon 500mm f4 on a Gitzo and spun it round, if it is going to drag it will not come to a smooth stop. It glides to a smooth stop. It is terrific. No fancy bells and whistles, no overpriced name-tags, this product is the bizzo.
It is robust, simple, and does what it says on the tin. I suppose the only thing it doesn't do is lock solid in a position, I'm not fussed about that anyway, I never lock it and I'm certainly not going to spend £600 on a gimbal that does lock, what for?
Save yourself some big bucks, take another look at this single arm Gimbal, I reckon this will last a lifetime.

Keywords:

http://www.lensmaster.co.uk/rh1.htm
Author
crosby birder

Registered User

Registered: November 2004
Location: Crosby, Liverpool
Posts: 33

| | |
| --- | --- |
| Review Date: Sun March 25, 2012 | Would you recommend the product? Yes | Price you paid?: None indicated | Rating: 9 |




| | |
| --- | --- |
| Pros: | Really good value for money, super smooth and easy to use |
| Cons: | Finish is not as good as some of the competition (mind you they are 3 or 4 times more expensive) |


Got the Lensmaster RH-1 a few weeks ago, it really is as good as the previous review says it is, with a super smooth action making it very easy to track birds in flight. It is also exceptionally easy to set up, after a bit of practice I can now mount the lens and camera in about 10-15 seconds.

Rob offers a really quick service and is a pleasure to deal with... why spend more?

DanC.Licks

AKA Daniel Bradley

Registered: July 2012
Location: Austria
Posts: 775

| | |
| --- | --- |
| Review Date: Sat October 12, 2013 | Would you recommend the product? Yes | Price you paid?: None indicated | Rating: 9 |




| | |
| --- | --- |
| Pros: | Simple, elegant design. Light and compact. |
| Cons: | see below |


I bought one directly from Rob, who is very nice and very helpful. I use it with a 90/600mm (f:6.5) triplet ED astro-scope with a DSLR attached, about 4kg in weight. I use it for bird photography.
There were a couple of things that bothered me personally, so I modified it to better suit my needs. Basically, I just replaced the plastic bushings on both the tilt and pan axis with ball bearings to reduce resistance and slop. I replaced the large "teflon" washer on the tilt with a harder one (Formica) to be able to lock the tilt down tight when need be. 1/8 turn of the knob and the tilt is smooth, 1/4 turn and it is resistance free. I made a large polished brass washer to go between the arm and the base to reduce resistance and broaden the support. I drilled a new hole in the base of the arm to center my scope on the tripod and reduce leverage, and I drilled a second hole very close to the vertical for reversing the arm for transporting the tripod.
I am now extremely happy with it and as I said, my goal was to modify it to suit my needs. I wanted free movement, no slop, and to be able to lock it down tight in an instant for moving around. I feel I was able to turn a very good product into an excellent one.
See:
http://www.birdforum.net/showthread....194800&page=10 post#241 and 248,
page 11, post #275, and page 18 #440.

Thanks to Rob who was very friendly and open to my ideas. As a manufacturer he has to find the best possible balance between quality and cost. I don't have those restrictions, and although my costs were minimal,(€14 for the bearings), it did take a lot of puttering.
Powered by: ReviewPost PHP vB3 Enhanced
Copyright 2006 All Enthusiast, Inc.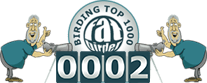 Search the net with ask.com