Welcome to BirdForum.
BirdForum is the net's largest birding community, dedicated to wild birds and birding, and is absolutely FREE! You are most welcome to
register
for an account, which allows you to take part in lively discussions in the forum, post your pictures in the gallery and more.
>
| | |
| --- | --- |
| Nikon Monarch ATB 8x42 Team REALTREE Binocular (REALTREE APG HD Camo) | |

| | | |
| --- | --- | --- |
| Reviews | Views | Date of last review |
| 1 | 6880 | Fri May 11, 2012 |

| | | |
| --- | --- | --- |
| Recommended By | Average Price | Average Rating |
| 100% of reviewers | $249.00 | 9.0 |


supersize

Description:

A roof prism binocular with a hearty feature-set that's easy on the wallet and the environment? Yes! - the Monarch ATB 8x42 Team REALTREE from Nikon is here - it's layered with assets, and it won't break the bank when you bring one home.

Nikon's proprietary lead and arsenic free optical-glass formula, known as Eco-Glass, is used for all lenses and prisms in this fine Monarch binocular. All of the air-to-glass surfaces are fully multicoated to ensure maximum light transmission, sharpness, and contrast. The roof prisms are finished with a dielectric coating that enhances the efficiency of the optical system to near perfection.

This easy-to-handle optic is fully waterproof and fogproof, and a tactile rubberized exterior ensures a secure grip at all times. The centered focus knob is fast, accurate, and easy to use. A pair of multi-setting click-stop eyecups and a notable 19.6 mm of eye relief allow you to tailor the binocular to suit your needs - whether you're wearing glasses or not. The binocular's rubber armoring has been finished in a REALTREE APG HD camouflage print that offers excellent concealment opportunities.

Note! Covered by Nikon's lifetime no-fault repair/replacement policy

Optical Performance
AFOV: 47.5°
Fully multicoated Eco-Glass lenses for enhanced sharpness and clarity
Dielectric multilayer prism coating delivers extremely high levels of light transmission, excellent contrast, accurate color rendition
Construction Details
Nitrogen filled/o-ring sealed for water and fogproof performance
Durable/protective rubber armoring provides a sure non-slip grip
Sleek lightweight form factor: excellent ergonomics, easy to carry, durable
Realtree APG HD finish: this camouflage pattern is light, open, neutral-toned, and contrasty. The addition of olive green accents enhances concealment options in early fall and spring.
Use and Handling
Center focus knob: fast full-range of focus for quick viewing.
Click stop eyecups: clear comfortable view with/without sun/eyeglasses

Keywords:

Nikon, Monarch, Monarch ATB, 8x42, Camo, Binoculars, Large Binoculars
Author
Bird_Enthusiast

Registered User

Registered: April 2012
Location: NYC
Posts: 1135

| | |
| --- | --- |
| Review Date: Fri May 11, 2012 | Would you recommend the product? Yes | Price you paid?: $249.00 | Rating: 9 |




| | |
| --- | --- |
| Pros: | Price, Quality, Weight |
| Cons: | Eyepiece Caps are flimsy |


A great product that is truly a pleasure to use. It is light weight, but also delivers a great image. With these new binoculars I am able to ID birds much quicker than my old Bushnells.

I would recommend these binoculars to anyone looking for a great pair on a budget.
Powered by: ReviewPost PHP vB3 Enhanced
Copyright 2006 All Enthusiast, Inc.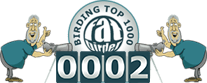 Search the net with ask.com