Welcome to BirdForum.
BirdForum is the net's largest birding community, dedicated to wild birds and birding, and is absolutely FREE! You are most welcome to
register
for an account, which allows you to take part in lively discussions in the forum, post your pictures in the gallery and more.
>
| | |
| --- | --- |
| Visionary Binoculars Wetland 8x42 | |

| | | |
| --- | --- | --- |
| Reviews | Views | Date product posted |
| 0 | 3652 | Wed June 6, 2012 |

| | | |
| --- | --- | --- |
| Recommended By | Average Price | Average Rating |
| No recommendations | None indicated | None indicated |



Description:

Visionary Wetland 8x42 Roof Prism Binoculars.

I recently bought a pair of these 8x42 roof prism binoculars for bird watching at my local nature reserve, and have found them to be of excellent optical quality, giving very clear, crisp and bright images almost to the edges of the lenses. The field of view is reasonably good at 6.3 degrees (330ft at 1000 yards). They are excellent for bird watching, and general use. As the images are so bright you could also use the binoculars for general star gazing. I have quite big hands, but have found these binoculars comfortable to hold, and because the magnification is only 8x, whatever you are looking at remains steady in the field of view. The centre focus wheel is large and just of the right resistance to make focussing smooth and easy. (There is a tiny bit of play in the focus wheel of my pair - but this doesn't concern me too much). As on almost all binoculars, the right eyepiece focuses individually. Again this focus adjustment wheel (just below the right eyepiece) is large, knurled and just of the right resistance to make focusing easy, but stiff enough to hold the lens at the position you choose. The rubber eyecups can be screwed out to various distances to make viewing comfortable for spectacle wearers. The objective lens covers are easy enough to peel off with one finger, and are held captive to the binocular by a little rubber strip. The eyepiece lens covers are joined in middle by a rubber link, and they can be attached to the binocular strap to prevent you losing them. They are a little stiff to peel off. The binocular strap is thin and not very long, but as the binoculars are fairly light (but heavy enough to make them feel solid and substantial in your hands), the strap doesn't dig into your nexk when carrying them for long periods. The case is made of a soft lightly foam padded material, again with a short strap (which is not long enough to go over your neck and shoulder). I don't think it would give the binoculars any protection if they were accidentally dropped onto a hard surface. (this is the only reson I've given a rating of 4 stars instead of five!)(I put the binoculars in my large camera bag, so don't use the case). Finally, the binoculars look very professional, feel vey comfortable to hold and use, and most importantly the optical quality is excellent. Normally I would recommend anyone to try a binocular in your hands (as I managed to do before I bought these), but now I have used them, I think they would be comfortable for most people - young or older. I have no hesitation in recommending them. Phil Edwards. North Wales. UK.

Keywords:

Medium Binoculars
Powered by: ReviewPost PHP vB3 Enhanced
Copyright 2006 All Enthusiast, Inc.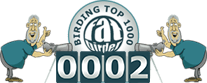 Search the net with ask.com