Welcome to BirdForum.
BirdForum is the net's largest birding community, dedicated to wild birds and birding, and is absolutely FREE! You are most welcome to
register
for an account, which allows you to take part in lively discussions in the forum, post your pictures in the gallery and more.
>
| | | |
| --- | --- | --- |
| Reviews | Views | Date of last review |
| 1 | 4408 | Thu June 14, 2012 |

| | | |
| --- | --- | --- |
| Recommended By | Average Price | Average Rating |
| 100% of reviewers | None indicated | 9.0 |


supersize

| | |
| --- | --- |
| Description: | The Eden Quality XP range is the new flagship binocular in the Eden range, replacing the previous ED model. |
| Keywords: | binoculars 8x42 Eden XP budget quality |
Author
WriterCJ

Registered User

Registered: November 2010
Location: West Cork, Ireland
Posts: 48

| | |
| --- | --- |
| Review Date: Thu June 14, 2012 | Would you recommend the product? Yes | Price you paid?: None indicated | Rating: 9 |




| | |
| --- | --- |
| Pros: | Outstanding image quality, bright, wide field of view, light weight, low price |
| Cons: | Moderate chromatic aberration when looked for, very slight yellow colour bias |


I was sent a pair of Eden Quality XP 8x42 to review on the Ireland's Wildlife website. To be perfectly honest I was expecting to receive a pair of middle of the road bins with middle of the road performance. After all, what more could you expect from optics that retail at the £245 mark.

When they arrived I was staggered at the quality packed into these bins for the price. They're solid, well made, have superb close focus, excellent field of view, good edge sharpness and produce a very sharp, clear image with loads of fine detail across a whole range of light conditions.

They really are outstanding for the price... and hold their own well compared with much more expensive brands. They can't live with my Swaro SLC 10x42 HD -- and you'd hardly expect them to... but they're not as far away as you might imagine.

The only slight quibbles I had were a moderate amount of chromatic aberration when really looking for it viewing ludicrously high contrast subjects (but better than you might expect from bins in this price bracket) and a very subtle warm / yellow colour cast only noticeable when compared side-by-side with colour neutral bins. The colour shift is slight, and wouldn't affect either the enjoyment of using the bins in the field or the ability to ID birds.

Outstanding for the price... and the 25-year repair or replace warranty is a testament to the company's faith in the longevity of their product.

In short I think they offer tremendous value and punch well above their weight at this price point.

You'll find a more detailed review of the Eden 8x42 XP binocular on the Ireland's Wildlife website.

------------------------------
Calvin Jones
Get closer to the wild side of Ireland.
Visit Ireland's Wildlife
Powered by: ReviewPost PHP vB3 Enhanced
Copyright 2006 All Enthusiast, Inc.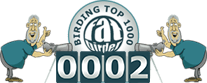 Search the net with ask.com