Welcome to BirdForum.
BirdForum is the net's largest birding community, dedicated to wild birds and birding, and is absolutely FREE! You are most welcome to
register
for an account, which allows you to take part in lively discussions in the forum, post your pictures in the gallery and more.
>
| | |
| --- | --- |
| Swarovski Swarovision EL 8x32 | |

| | | |
| --- | --- | --- |
| Reviews | Views | Date product posted |
| 0 | 1264 | Sun July 8, 2012 |

| | | |
| --- | --- | --- |
| Recommended By | Average Price | Average Rating |
| No recommendations | None indicated | None indicated |



Description:

Incredibly bright and sharp, across the generously wide FOV. No hint of what has come to be known as 'Rolling Ball'. A tiny amount of pincushion compared to it's 8.5x42 sibling. Excellent flare control, and natural colours which seem a little 'colder' than the Zeiss FL, for example. I perceive a 3D effect which I would normally associate with porros. The narrower-field 8.5x42 Swarovision is a little brighter in challenging conditions, but it's hard to figure out if the bigger bino's slight edge in resolution is down the extra half degree of mag. The real joy of using the Swarovision 8x32 is the ergonomics - I have medium-sized hands, perhaps a little slender, and it feels as though these binocs were designed specifically for me. Comfortable underside indents, narrower barrels than the older EL's, and a very smooth focusser in both directions. Small and light, so much that the substantial padded 2-section field-case and thick comfortable lanyard feel like 'overkill' for such a small binocular. I've been using the Swarovision 8x32 for about six weeks now, and they are my 'go to' bins for most conditions.
To summarise - with any binocular I've tried previously, there's always a 'but...', as in, 'These are excellent, but....'. That 'but' may be CA control, or flare, or eye-relief, or handling or whatever. The Swarovision 8x32 is an excellent binocular in every regard - no 'buts'.
Powered by: ReviewPost PHP vB3 Enhanced
Copyright 2006 All Enthusiast, Inc.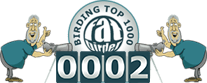 Search the net with ask.com