Welcome to BirdForum.
BirdForum is the net's largest birding community, dedicated to wild birds and birding, and is absolutely FREE! You are most welcome to
register
for an account, which allows you to take part in lively discussions in the forum, post your pictures in the gallery and more.
>
| | |
| --- | --- |
| Minox BD 8.5 & 10 x 42 BR Aspheric | |

| | | |
| --- | --- | --- |
| Reviews | Views | Date of last review |
| 2 | 17278 | Mon September 21, 2009 |

| | | |
| --- | --- | --- |
| Recommended By | Average Price | Average Rating |
| 100% of reviewers | $250.00 | 10.0 |



Description:

Magnification: 8.5 (10)
Entrance pupil:42 mm
Exit pupil:4.94 (4.2) mm
Field of view: 105 (106)m at 1000m
Eye relief: 18 (15) mm
Close distance: 3 m
Diopter Compensation: ± 2 dpt
Height Width Depth: 146x127x52 (143x110x63)mm
Weight: 830g (850g) with strap & rain guard)
Water proof to 5m
Incl. neoprene strap and soft case
Argon Filled

Keywords:

Minox 8.5x42 10x42 Roof Prism Aspheric
Author
sdg_77
sdg_77

Registered: October 2005
Location: Warwickshire
Posts: 44

| | |
| --- | --- |
| Review Date: Fri June 30, 2006 | Would you recommend the product? Yes | Price you paid?: None indicated | Rating: 10 |




| | |
| --- | --- |
| Pros: | Build Quality, Bright Image |
| Cons: | Weight |


Bought the 8.5s at a local birdwatching fair (Redditch) at the beginning of June. Having tried them in a variety of light conditions (bright sunshine, cloudy, late evening, sunset - just not much rain yet) they have more than matched what we hoped for. Bright clear images, good depth of field, no chromatic aberration that I can see and excellent build quality. As I got an unexpected bonus from work we bought a pair of the 10x42s in July as most of our birding is done together and it had become obvious they were streets ahead of the other binoculars we had in the house.

They were bought as an upgrade from some Pentax 8x40 PCF porro prisms which were themselves bought as a first pair of bins specifically for birding. Having decided we are keen enough on birding to justify spending some serious cash on binoculars we looked at several makes at the show. Opticron, Leica & RSPB were all good but these were the ones which both of us liked.

Most of what follows applies equally to both the 8.5s and the 10s. The only real difference I can find is the 10s require a little more focussing and have slightly less depth of field.

Although I have put weight as a con, the image quality was noticeably better than the lighter and cheaper non-aspheric Minoxs - which is what persuaded us to go for these. I expected the Leicas to be obviously better - but neither of us could see a twice the price difference, and the Minoxs were more comfortable to handle. We both thought the Opticron DBA Oasis was similar quality but neither of us liked the ridges on the case.

I have large hands, long fingers - my wife the opposite but we both find these bins very comfortable to use & easy to focus. The dioptre is easy to adjust and stays put as do the eyecups. The rainguard is good quality and fits well.

I dont normally wear my glasses while birding - just for reading the field guide or making notes - but with the eyecups down I get an equally good view, I suppose this might be useful on the days when I am searching the field guide trying to identify something.

If I were being really picky I might change the strap for a wider one - but that really is trying to find some minor criticism - the included strap is good quality neoprene and the logo is suitably discrete. The caps for the objective are easy to fit and remove, and the soft case fits well.

We paid £350 for the 8.5s - normal price is anything up to £450 and I would have been happy to have paid that much. Minox have a new HG model out so I assume they were offering these at 'show prices.' The 10s were £470.

Both pairs came from Focus Optics near Coventry. You may well find them cheaper on some internet sites but the customer service at Focus and the chance to try out optics in field conditions is - just my opinion - worth paying a little extra for.

(Sept 06) After much use these bins continue to impress - and having now used them on bat watching trips, in rain and poor visibility I really can\'t fault them.

------------------------------
sdg_77

Aaron Rust
Registered User

Registered: September 2009
Location: Ames, IA
Posts: 17

| | |
| --- | --- |
| Review Date: Mon September 21, 2009 | Would you recommend the product? Yes | Price you paid?: $250.00 | Rating: 10 |




| | |
| --- | --- |
| Pros: | price |
| Cons: | Small amount of CA on edges |


I called camera land two weeks ago but Doug was on his day off. So I email him a question about a few binos that I was considering. I was replacing my 7X40 NVA Zeiss and wanted to get as close to that quality as I could for only $300-400. The zeiss are porro prism binos that were for watching the Berlin wall. They bring about $500 on Ebay but I found my 7 years ago for $225 but they were lost, then found by my Dad's Tractor and tillage equipment. The only salvageable parts were the right barrels prisms. So i emailed doug on his day off and within 30 minutes my phone rang... it was Doug at home on his day off to tell me of the Minox Minox BD 8.5X42 BR Aspherical. A couple days later they arrived with a free pound of coffee and a free hat. All for a charge of $250! Doug thought they were his best buy - far better than the other ones i was considering Nikon ATBs and Minox BL BRs... I was somewhat sceptical about the binos and immediately was taken aback by the quality feel, fit and finish of the binos. The only fault on fit and finish is the seam in the armor on the bottom outside edge of the barrels. It could be finished a bit better in that area. The first use of them I was amazed at the clarity of the optic. The color rendition as well is extremely good. After a day or two I found a very small sticker barely attached near the hinge that said, "Made in China" - Surely not... But after using them every day for a 10 days, I really don't care if they are made on the Island of Yap as long as the quality and quality control is there! I had heard of chromatic aberration and that Minox has some issue with this. So I decided to try to find it. The C.A. was only located when a twig or something very small is against a white sky and you move the object to the edge of the view. So I would say it is a non issue due to the fact of the circumstances to make it appear. Another great thing about the binos is that the focus ring on the right barrel although non locking turns stiff enough to stay put. It does not move when you do not want it to. The center focus works great. The quality and heft is fantastic, the fit and finish is excellent... they have aluminum frame, twist up eye cups with 3 detents, focus very easily, a great neoprene strap (although i use a harness) and I think they out perform my 7X40 Zeiss NVA - all except extremely low light and the 3D view one gets with porro prism binocs. I cannot afford the high end European glasses at this point in my life and for the cost and quality these will suit me just fine. As many here, I cannot say enough good about Doug's service and camera land. If you are looking for a bargain in optics this is it!
Aaron
Powered by: ReviewPost PHP vB3 Enhanced
Copyright 2006 All Enthusiast, Inc.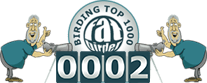 Search the net with ask.com