Welcome to BirdForum.
BirdForum is the net's largest birding community, dedicated to wild birds and birding, and is absolutely FREE! You are most welcome to
register
for an account, which allows you to take part in lively discussions in the forum, post your pictures in the gallery and more.
>
| | | |
| --- | --- | --- |
| Reviews | Views | Date of last review |
| 1 | 23252 | Wed February 11, 2009 |

| | | |
| --- | --- | --- |
| Recommended By | Average Price | Average Rating |
| 100% of reviewers | None indicated | 10.0 |


supersize

Description:

New gimbal head from Jobu featuring:

One-piece cast and heat-treated construction. Incredible stiffness and rigidity.
Full ball bearing support in tilt-axis for ZERO static/dynamic friction. 100% smooth movement.
Newly redesigned and stiffened horizontal mount swing-arm for better control.
Soft-touch rubberized knobs for better use with bare or gloved hands, especially when wet (similar to our Jr.2 knobs).
Newly designed low-profile lockout switch (locks tilt movement for travel).
No weight penalty compared to our current BWG-HD.

Keywords:

Jobu Black Widow Pro Gimbal
Author
postcardcv

Super Moderator

Registered: August 2003
Location: Norfolk
Posts: 16697

| | |
| --- | --- |
| Review Date: Wed February 11, 2009 | Would you recommend the product? Yes | Price you paid?: None indicated | Rating: 10 |




| | |
| --- | --- |
| Pros: | rock solid - smooth movement - relatively cheap |
| Cons: | |


I recently had the opportunity to use the new Jobu Black Widow Pro Gimbal for a couple of weeks, here's my thoughts on it:

Out of the box it looks very impressive and is suprisingly light weight, it was very easy to attach onto my Gitzo and get out using it. I'm currently using the BWG-L which is a side mounted gimbal, putting the lens onto this top loader was much easier. Getting it balanced was very easy (only took a minute) and the movement was very smooth. The knobs are good and chunky which makes using them very easy even when wearing gloves (good on those cold days).

Using it in the field it worked very well, panning was very smooth and it held still when I let go. It held my 500 f4 with ease, the manufacturer reckon it will take any of the big lenses and I don't doubt this for a moment. I three weeks of using it I've had no problems with it and would be very happy to use one full time. I still feel that the BWG-L is an excellent option for someone who wants a cheap gimbal. But if you want a full gimbal than this new one is clearly worth a look especially as it's currently £100 cheaper than the Wimberley.

------------------------------
www.blueskybirds.co.uk

http://www.facebook.com/BlueSkyBirds
Powered by: ReviewPost PHP vB3 Enhanced
Copyright 2006 All Enthusiast, Inc.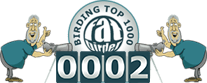 Search the net with ask.com