Welcome to BirdForum.
BirdForum is the net's largest birding community, dedicated to wild birds and birding, and is absolutely FREE! You are most welcome to
register
for an account, which allows you to take part in lively discussions in the forum, post your pictures in the gallery and more.
>
| | |
| --- | --- |
| Gitzo Safari Traveller/Birdwatchers Kit - Series 2 GK2520FT | |

| | | |
| --- | --- | --- |
| Reviews | Views | Date of last review |
| 1 | 17459 | Sun July 24, 2011 |

| | | |
| --- | --- | --- |
| Recommended By | Average Price | Average Rating |
| 100% of reviewers | None indicated | 10.0 |



Description:

Specification

centre column: rapid
closed length: 53.0 cm
leg angles: 25į. 70į
leg sections: 4
level: eye
load capacity: 4 kg
Load Capacity: Short Column 4.0 kg
max height: 164.0 cm
max height: (with centre column down) 129.5 cm
min height: 32.0 cm
weight: 1.96 kg


The Gitzo SER.2 Safari Traveler BW Tripod Kit (Carbon Fibre) is an exceptionally lightweight (4.32 lbs/1.96 kg) and compact tripod that's ideal for travelling and bird watching. It has a maximum height of 5.38' (1.64 m) and folds down to 20.87" (53 cm), with a minimum working height of 12.6" (32 cm). It includes a lightweight tilt head with a quick release plate, and supports up to 8.82 lbs (4 kg). It features G-lock for faster operation and stronger leg locking, as well as Ocean Lock, which minimizes the amount of water and debris that can enter the leg tubes and locking mechanisms. It also has the Anti Leg Rotation (ALR) system which allows you to open the tripod in less than 15 seconds. The ultimate support solution for birdwatchers.

Ground Level Set

This feature allows you to remove the centre column to save weight and get the camera closer to the ground. Uses existing components: the upper disc with reversible 1/4" - 3/8" bolt and the column hook assembly. Remove column and fix the disk directly to the upper casting using the column hook. No tools needed.

G-Lock

The locking mechanism has been completely redesigned in order to achieve a 20% increase in rigidity, faster operation and stronger, safer locking. G-Lock's special design also provides a "gravity lock" effect: the higher the load applied vertically to the leg, the stronger the lock.

Rapid Column

The centre column locking collar above the tripod shoulder makes it easier to adjust the column quickly. Series 1 and above are built with an anti-rotation grooved centre column for improved stability.

Reversible Column

The rapid column can easily be inverted for an alternative shooting angle or low level macro work.

Hook

This built-in accessory allows you to hang a stabilizing weight (e.g. a full camera bag or a sand/water bag) from the bottom of the tripod centre column. Useful with long/heavy lenses, on uneven ground or in windy conditions.

Ocean-Lock

The Ocean-Lock is a special version of Gitzo G-Lock, with the same outstanding locking performances. Thanks to two special seals derived form the automation industry, it minimizes the amount of water and debris that may enter tubes and locking mechanisms. The Ocean-Lock is not 100% waterproof--however, it dramatically enhances the capacity of the tripod to withstand extreme environments.

ALR

We have introduced a new Anti Leg Rotation system, which means the tripod can be opened in less than 15 seconds. Simply loosen all the twist locks on each leg at the same time, then pull the leg down and tighten the locks individually.

Spike Feet

Stainless steel spikes for tripods and monopod, especially useful for soft underground outdoors.

Carbon Fibre Tube 6x

Gitzo 6X is the most advanced carbon fibre tube in the market and guarantees structural strength, flexion rigidity and great vibration absorption properties. Despite the claims of other manufacturers, the performance of this multi-layer design is unique and inimitable thanks to the advanced aerospace production technology and the exclusive inner structure. It is the highest density tube 100% made of top quality ultra thin (7μm) carbon fibres (a 28mm tube contains 1.500.000 carbon fibres).

Keywords:

Gitzo Safari Traveler Birdwatchers Kit Tripod
Author
IanF

Moderator

Registered: August 2002
Location: Billingham, NE England
Posts: 55822

| | |
| --- | --- |
| Review Date: Sun July 24, 2011 | Would you recommend the product? Yes | Price you paid?: None indicated | Rating: 10 |




| | |
| --- | --- |
| Pros: | Compactness, Stablility, Lightweight, Great design |
| Cons: | High cost |


Much as I like my Manfrotto Carbon One 443 and 128 RC head I have to say that I really like the new Gitzo Series 2 GK2520FT Safari Traveller Kit. It is a real pleasure to use, not to mention the design and green colour mean it looks good too!

From the outset the high quality expected of Gtizo products is obvious. It comes in a rather nice looking box with the tripod in a cloth bag and even has a plastic pouch with tool kit and instructions for making adjustments and aid long term care. The compactness is obvious due to the unique reversible leg design for travelling and storage.

The sleek looking design is lightweight yet retains good stability with little in the way of vibration. Itís so lightweight Ė 1.96 kg for both head and legs - I barely felt the weight on my shoulder strap. The special G-Lock - Ocean Lock legs are easy to use requiring little movement to lock the legs in place and release them. I never had cause to try it in water so I canít comment on the water seal feature but the leg sections certainly extended and retracted very smoothly. The centre column has a hook on itís bottom for hanging a weight for increased stability though I never had the need to use it. Also the column is reversible should you so desire. The standard feet are removable using the included tool kit to reveal spiked feet as an alternative.

Being a kit it comes with the GH 1720 FQR tripod head. Both pan and tilt are operated from one control. Previously Iíd only used heads with separate controls for pan and tilt but it didnít take long to get used to the new system. Tension can be infinitely adjusted with very little pressure and operation was silky smooth. It was certainly smooth enough to pan when taking video with my DSLR of waders wandering around. The head plate position can be adjusted forward or backward to aid balance if need be. A separate button needs to be pressed to release the plate from the head in addition to releasing a tension lever, a good feature to protect against accidents.

The kit recommended for lenses up to lenses up to 300mm though can take heavier weights. I was mostly using it with a Canon 7D and Canon 400mm f5,6 lens, often with teleconverters as well. It even handled my Swarovski ATS80 scope comfortably.

The max. working height is quoted as being 129.5 cm with centre column down and 164 cm with column extended. Whilst not the tallest tripod available, at 188cm I had no difficulty in using it for photography or with my angled scope.

The price point is fairly high but as they say Ďyou get what you pay forí and quality certainly isnít a concern. Itís well designed and constructed with the bird photographer in mind and Iím sure will last a lifetime.

------------------------------
Durham Bird Club -Teesmouth Bird Club---RSPB Saltholme---Durham Birding---Local patch - Cowpen Bewley Woodland Park
Powered by: ReviewPost PHP vB3 Enhanced
Copyright 2006 All Enthusiast, Inc.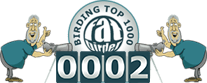 Search the net with ask.com