My Observations.
Seeing If
Posted Friday 2nd November 2012 at 01:55 by
BPrincessAnn
Updated Friday 2nd November 2012 at 01:59 by
BPrincessAnn
(Putting Into A Category)
Just testing out my blog for the first time.
Since no one moved into the Camelia tree where the Scrub Jays made a nest, I thought to blog about something else here, so I am choosing the Catalina Island Eagles in Southern California, to see how well it goes here.
This is the first year I am documenting them from the beginning of the season, so here are a few pics of them.
Liberty & Justice are their names, they lost both their chicks last year - I wept with them, but it seems this year they are getting ready early.
Just let me know if you want me to continue to post pics of them and their activities. :)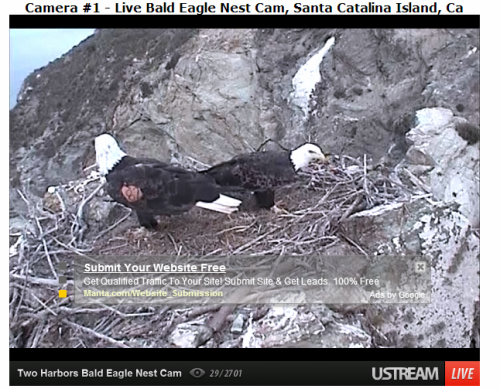 Comments
0
Comments
Recent Blog Entries by BPrincessAnn