Welcome to BirdForum.
BirdForum is the net's largest birding community, dedicated to wild birds and birding, and is absolutely FREE! You are most welcome to
register
for an account, which allows you to take part in lively discussions in the forum, post your pictures in the gallery and more.
Why should I register?
In order to fully utilize the abilities of this forum, the administrator will probably require that you register as a member. Registration is free, and allows you to do the following:
Post new threads
Reply to other peoples' threads
Edit your posts
Receive email notification of replies to posts and threads you specify
Send private messages to other members
Enter events in the forum calendar
Set up a 'buddy-list' to quickly see which of your friends are currently online
To register, you will need to specify a username and password, and a valid email address. Entering your email address will not leave you open to 'spam', as you can choose to hide your email address, and messages sent to you via email do not reveal your address to the sender in any case. (To verify this, you can try sending an email message to another user.) The administrator may have configured the forum to send you the final part of the registration process by email, so ensure that the email address you provide is valid and working.

If you are under the age of 13, the administrator may require that a parent or guardian provides consent before allowing you to complete the registration process. More information about this is available during the registration process.
Blog FAQ
The Blog system gives you your own personal space at BirdForum. Depending on how the administrator has configured the blog, you will be able to create your own entries and control who may view them.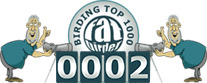 Page generated in 0.08063507 seconds with 11 queries